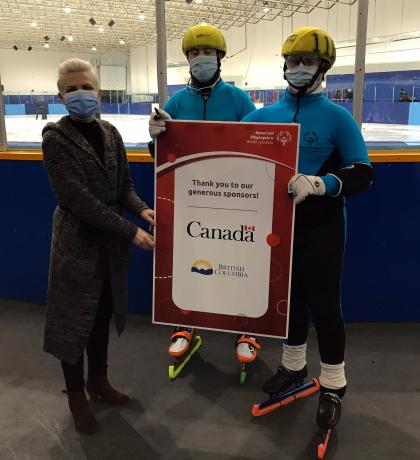 For almost as long as Special Olympics BC has existed, the Government of B.C. has been a key supporter of our programs and movement. The provincial government's long-standing and significant support has allowed SOBC to grow and develop, reaching more communities and offering empowering experiences and opportunities to individuals with intellectual disabilities of all ages. 
The Government of B.C. is a strong supporter of SOBC's youth programs, which help provide opportunities for young people with intellectual disabilities to develop motor, sport, and social skills in a safe and welcoming environment. 
They also play a critical role in supporting Special Olympics BC's life-changing health initiatives, including Healthy Athletes screenings. Through Healthy Athletes, health care professionals receive training about the specific health care concerns of people with intellectual disabilities and how to ask the right questions, helping them draw out issues. Their interactions with Special Olympics athletes lead to referrals back into the health care system that ensure the individuals will get the treatment they need.
Support from the Government of B.C. helps Special Olympics athletes of all ages in SOBC's year-round programming. Provincial government funding helps provide sport-specific training camps, reduce the cost of programs and competitions, and create new opportunities for Special Olympics athletes and coaches. 
In 2021, Special Olympics BC received more than $181,250 through the government's funding of sport. SOBC Locals also received gaming grants to support their year-round programs.
The Government of B.C.'s Sport Branch has also been a tremendous source of assistance and resources to SOBC. Understanding and supporting SOBC's goals, Sport Branch staff have been working hard to open doors and inform us of other resources, contacts, and opportunities. 
We are so grateful to the Government of B.C. for being a vital supporter of our work and helping Special Olympics BC make a difference to athletes across the province! If you have a moment, please thank your local MLA for this support as it truly makes a difference.