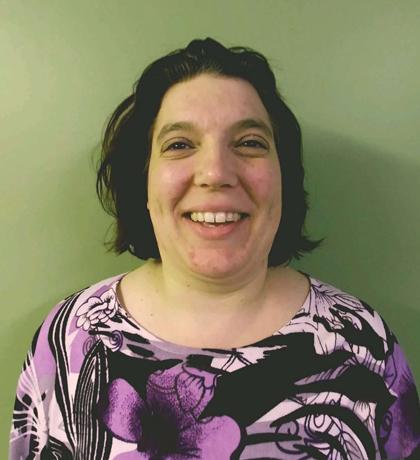 Special Olympics BC – Revelstoke athlete Terina Sessa says SOBC gives her opportunities to try new sports and live a healthy lifestyle.   
"I would rather be active than sitting on the couch and doing nothing," she says.
Sessa participates in 5-pin bowling, Club Fit, curling, and swimming through SOBC – Revelstoke. She says the two sports she likes the most are 5-pin bowling and curling, because she loves throwing sports, and curing is her favourite because it is good exercise. 
Sessa has made a lot of good friends through Special Olympics. She says participating in sports helps her stay connected with her friends and gives them opportunities to have a lot of fun. 
"We talk, we have fun – it's just a blast!"
Sessa says she enjoys developing her sport skills with her friends. They all cheer each other on and push each other to get better.
"We notice big improvements every time," she says.
Sessa says SOBC – Revelstoke athletes are supported by knowledgeable, supportive coaches who provide great instruction. 
"We have really good coaches!" she says.
Based on advice from one of her curling coaches, Sessa and some friends have been regularly attending drop-in curling sessions at a local rink. This has given them opportunities to get more practice and play with different people. Sessa says it has helped them become better curlers. 
"I take what I learn back and incorporate it with what I learn in Special Olympics." 
She says the sessions have allowed her to share her love of curling with different people, and she has even helped new players learn curling rules and techniques. 
"It's fun to meet new people and teach them how to curl," Sessa says.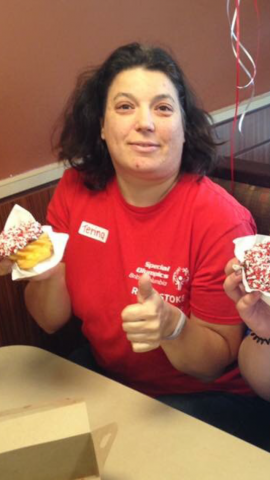 One of Sessa's most memorable experiences with Special Olympics was attending a bowling competition in Kamloops. She said it was fun to meet new people, travel with her friends, and bowl in a different venue. Sessa says she would love to travel for another competition in the future. 
"We came in third, but it wasn't the place that counted – it was going and meeting new athletes through Special O."
Sessa also loves to help with SOBC – Revelstoke's fundraising efforts. A highlight for her was supporting her local Tim Hortons restaurant on July 21, the Global Day of Inclusion. To celebrate the 50th anniversary of the Special Olympics movement, Tim Hortons locations across the country sold a limited-edition doughnut with proceeds supporting Special Olympics. Along with helping raise awareness for the campaign in the restaurant, Sessa got to make one of the doughnuts.
Outside of SOBC, Sessa has a job at a convenience store where she stocks shelves, works the cash, and cleans the store. She also works at Community Connections Revelstoke, where she helps clean. Sessa says working is another way she stays active. 
"If you're not busy you are just going to be sitting there and not moving," she says.
Looking to the future, Sessa would love to represent her Local and town at an SOBC Provincial Games. She also wants to attend more competitions and try lots of new sports.