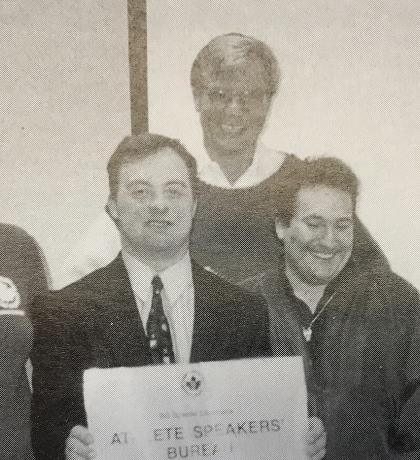 As we celebrate the 50th anniversary of Special Olympics, we are taking a look back at the #50moments that have defined the Special Olympics movement here in B.C. and throughout the world.
Special Olympics athletes contribute to their communities in so many ways beyond the playing field. Athlete leaders put their talents to work as advocates, volunteers, fundraisers, and so much more. They are teaching the world the true meaning of inclusion.
Leadership skills are honed on and off the fields of play. Special Olympics athletes feel empowered by their participation in sport programs and the community of friends and fans that surrounds them. And in addition to traditional sport programs, Special Olympics BC offers athletes opportunities to take part in leadership training programs so they can have a voice within their own communities and become representatives of Special Olympics in B.C., Canada, and all over the world.
Through SOBC Athlete Leadership programs, athletes develop the skills and abilities to take leadership positions in a number of roles including public speaking, sitting on Local Committees, and assisting as fundraising and program volunteers. These programs are proven to have a lasting benefit to participants by increasing confidence and self-esteem as well as providing input and insight into athlete issues – a valuable resource to Special Olympics BC.
SOBC started offering Athlete Leadership programs in 1999 to help athletes get involved with public speaking and increase their self-confidence. SOBC trained 45 athlete speakers and speech coaches from 36 Locals through the Athlete Speakers Bureau program. 
The Speakers Bureau was a big success from the beginning, both for the athletes and coaches who participate and for the Locals and SOBC who benefit from these inspiring athletes advocating for our movement. 
In the same year, SOBC hosted a pilot Athlete Forum at the Provincial Program Conference to seek athlete feedback on programs. Next, the SOBC Athlete Speakers Bureau Level II pilot course was developed working with John Hawkins from Toastmasters, and an Athlete Leadership Workshop was introduced. In 2004, the Athletes as Program Mentors course was added to provide athletes with knowledge, skills, and confidence to take on a mentorship role within a Special Olympics sport program.  
Today SOBC athlete leaders are active all over the province, country, and planet, providing important and inspiring athlete perspectives. SOBC – Comox Valley athlete Jake Hooper serves on the Special Olympics Canada Athlete Leadership Council and the North American Leadership Council. "I aim to help athletes to the best of my ability," Hooper says. 
SOBC – Langley athlete Matt Williams participated in our province's Athlete Leadership programs and went on to serve as a Special Olympics Sargent Shriver Global Messenger in the 2011 to 2014 cohort, as the Chair of the Special Olympics Global Athlete Congress from 2010 to 2018, and as a Special Olympics International Board Member. In 2015, he delivered a TEDxVancouver talk that drew two standing ovations from the crowd of thousands at Rogers Arena and has been watched more than 1.1 million times online. Please click here to be inspired! 
Today SOBC's Athlete Leadership program offerings include:
Athlete Speakers Bureau workshops
Athletes as Program Mentors workshops
Athlete Input Council (formerly Athlete Congress/Governance)
Health Hero and Health Messenger training
Athlete Reporter training
And more!
We can't wait for the 2019 SOBC Athlete Leadership Conference coming up April 6 and 7 with participants from all over the province! Check out comments and speeches from the 2018 conference
To learn more about upcoming workshops and engage your local athlete leaders, contact SOBC's Michelle Cruickshank by email or by phone at 250-208-5402.