Special Olympics Team BC 2020 Snowshoeing Coach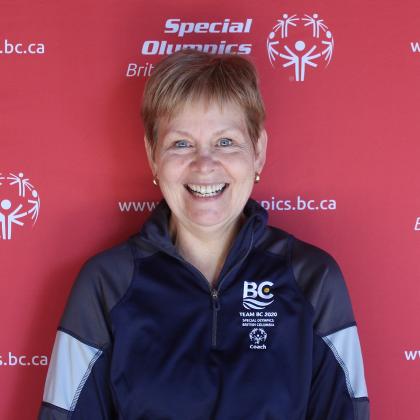 When and how did you get involved with Special Olympics?
After our daughter Katie joined Special Olympics in 2004, I began to volunteer with special events and with the snowshoeing program.
Will this be your first Special Olympics Canada Games? If not, which other National Games were you part of and in what role(s)?
This is my first time coaching at a Special Olympics Canada Games. We have attended two other National Games, the 2012 Games in Alberta and the 2016 Games in Newfoundland, as parents.
What does it mean to you to be part of Special Olympics Team BC 2020?
I am very excited to be part of the Special Olympics Team BC 2020 snowshoeing coaching staff. I am looking forward to working alongside such dedicated and caring coaches.
What is/are your goal(s) for these National Games?
I will aim to do my best to support the athletes as they strive to achieve their individual goals at National Games, and also help them to enjoy every moment of the National Games experience.
What is your favourite Special Olympics experience to date?
It is in experiencing the excitement and emotion of competition, and seeing the athletes' determination to do their best, no matter what the venue.
What does competing at National Games mean to your athletes? (or, if this is your first National Games, competition in general)
It is a source of pride for the athletes to be part of Team BC. Their self-confidence and physical fitness improve through their training leading up to National Games.
What storylines are you excited to see develop in your Team BC sport team leading up to the National Games?
Watching the athletes develop as a team, as well as achieving personal bests.
What would you say about Special Olympics to encourage someone to get involved?
If you are looking to be inspired, to meet a huge number of wonderful people, and be involved in sports, then Special Olympics is for you!