Special Olympics Team BC 2020 Snowshoeing Coach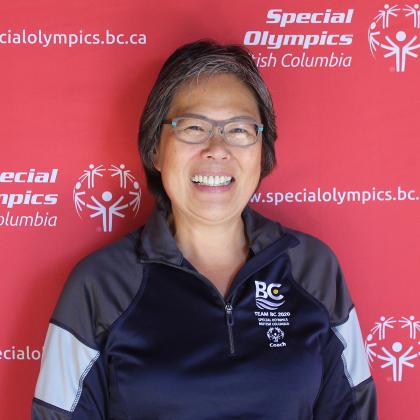 When and how did you get involved with Special Olympics?
After searching online for sports related volunteering opportunities, I came across a notice for Special Olympics in Vancouver in 1999. There was no looking back. I coached in various sports and acted as the Volunteer Coordinator from 1999 to 2004, until my move to Vernon. Missing the joy and camaraderie of working with Special Olympics athletes, I rejoined Special Olympics in 2012 in Vernon, coaching numerous sports including athletics, Club Fit, and snowshoeing.
Will this be your first Special Olympics Canada Games? If not, which other National Games were you part of and in what role(s)?
No, I attended the Special Olympics Canada Summer Games Vancouver 2014 as a coach for athletics.
What does it mean to you to be part of Special Olympics Team BC 2020?
Exciting and empowering. Exciting as I get to watch team members (athletes, coaches, mission staff) blossoming into the best that they can be. Empowering as I am a part of this growth and transformation.
What is/are your goal(s) for these National Games?
1. To help develop the athletes to help them to meet and exceed their goals and aspirations.
2. To gain a better appreciation of my skills on and off the playing field.
What is your favourite Special Olympics experience to date?
A heartwarming moment that happened during the Special Olympics Provincial Summer Games Langley 2013. While waiting in the dinner queue with our Region 2 team, a group of Vancouver athletes and coaches came over to greet and speak to me. It was very rewarding and touching to know that my time spent with SOBC – Vancouver had left a positive and empowering attitude on these athletes and volunteers – it was nine years since I had seen these people and they recognized me right away – wow!!
What does competing at National Games mean to your athletes? (or, if this is your first National Games, competition in general)
The National Games give them a chance to showcase their zest for life as well as their abilities. It means acceptance and belief of who they are and that dreams and goals can be reached through dedication and hard work.
What storylines are you excited to see develop in your Team BC sport team leading up to the National Games?
1. Positive portrayal of our athletes. By showing how participation in Special Olympics sports (especially snowshoeing) has empowered each athlete to become a balanced and well rounded individual.
2. Importance of team bonding. Highlighting the snowshoeing team as a "family unit" built on respect, support, hard work, acceptance, and love for life and sport. This is a real-life situation as snowshoeing has three athletes with parents attending as coaches (father/son, mother/daughter, mother/son combos).
What would you say about Special Olympics to encourage someone to get involved?
Volunteering with Special Olympics is very rewarding as you get to meet and work with awesome athletes, volunteers, and support staff. The athletes can teach you enthusiasm, determination, and an appreciation to excel in sport and in life. You will get back much more than you put in. Priceless!