Special Olympics Team BC 2020: Alpine Skiing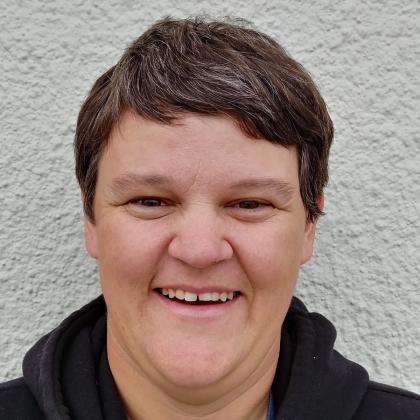 When and how did you get involved with Special Olympics?
1992 I joined the Special Olympics BC – Kimberley/Cranbrook ski team.
Will this be your first Special Olympics Canada Games? If not, which other National Games were you part of and in what role(s)?
I have attended National Winter Games for alpine skiing in 1996 (Calgary), 2000 (Ottawa), 2008 (Quebec City), 2012 (St. Albert/Jasper), and 2016 (Corner Brook). I attended National Summer Games for golf in 2018.
What does it mean to you to be part of Special Olympics Team BC 2020?
I take pride in the ability to continue to excel in all Special Olympics sports.
What is/are your goal(s) for these National Games?
To do my best, meet new people, and enjoy the experience of competing in Thunder Bay.
What is your favourite Special Olympics experience to date?
THERE HAVE BEEN MANY, THE BEST WAS PROBABLY WHEN I WAS ABLE TO WIN MY 1ST MEDAL DURING WORLD COMPETITION IN 1997. SPECIAL OLYMPICS HAS ALLOWED ME TO BE RECOGNIZED IN MANY DIFFERENT WAYS, I WAS THE FINAL TORCH BEARER & LIT THE CAULDRON IN CRANBROOK DURING THE 2010 OLYMPIC TORCH RUN, PARTICIPATED IN THE RICK HANSEN 25TH ANNIVERSARY CELEBRATION, IN 2013 I WAS HONORED WITH THE ATHLETIC ACHIEVEMENT AWARD BY SOBC, PARTICIPATING IN THE CLOSING CEREMONIES IN PYEONGCHANG, CARRYING CANADA'S FLAG AT THE CLOSING CEREMONIES IN GRAZ, AUSTRIA & BEING THE PARADE MARSHALL FOR CRANBROOK'S SAM STEELE DAYS CELEBRATION TWICE.
What does competing at National Games mean to your athletes? (or, if this is your first National Games, competition in general)
Competition makes all the hours of training worthwhile!
What storylines are you excited to see develop in your Team BC sport team leading up to the National Games?
This will be my sixth National Winter Games - I will be able to mentor new athletes in the Games experience, and hopefully help the coaches with their expectations of the new athletes.
What would you say about Special Olympics to encourage someone to get involved?
The opportunities given to Special Olympics athletes are amazing - friendship and acceptance locally, the travel, the new friends, visiting other cities during competition, and life lessons are amazing.