Special Olympics Team BC 2020 Snowshoeing Coach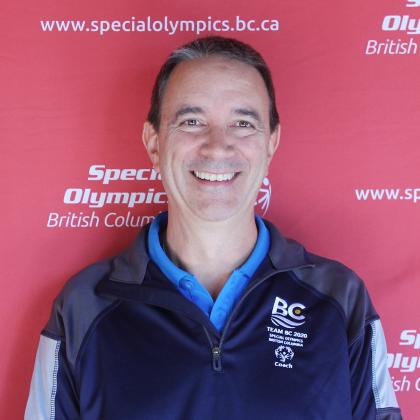 When and how did you get involved with Special Olympics?
I got involved by helping out 5-pin bowling when my son started with Special Olympics. That was 17 years ago and has been an incredible journey.
Will this be your first Special Olympics Canada Games? If not, which other National Games were you part of and in what role(s)?
I have also been a coach at the 2016 National Winter Games for snowshoeing and the 2018 National Summer Games for bocce.
What does it mean to you to be part of Special Olympics Team BC 2020?
Being part of Team BC 2020 is exciting and makes me proud. These Games will be particularly memorable for me as I have one son who is competing as an athlete in snowshoeing, and my other son is a coach for curling. Having all three of us there enjoying this experience together as part of Team BC will be extra special.
What is/are your goal(s) for these National Games?
My goal is for my athletes to train hard so that they can compete at Nationals and have personal bests. I know if my athletes perform at their best that they will excel and end up on the podium. I want my athletes to have fun and enjoy the whole experience.
What is your favourite Special Olympics experience to date?
My favourite Special Olympics experience to date is the entire Team Canada 2017 experience - with special mention to walking into the Opening Ceremony as part of Team Canada and watching my son win a gold and silver medal.
What does competing at National Games mean to your athletes? (or, if this is your first National Games, competition in general)
For the athletes, this is their chance to compete at the highest level in Canada and to meet athletes from across the country. Special Olympics Canada and Special Olympics BC treat these athletes with the respect they deserve and put on a first-rate Games - it will be a highlight in their lives and create memories to last a lifetime. My role is to make sure they are ready to compete and have fun.
What would you say about Special Olympics to encourage someone to get involved?
Special Olympics will have a positive affect on anyone that chooses to get involved. Competing in sports will lead to improved fitness, healthier eating, a new circle of friends, increased confidence, and a positive transformation in all aspects of athletes' lives. Best of all - the athletes will have fun along the way. If you are a volunteer, you will have the chance to make a difference in someone's life, and you will learn so much and have a great time while your life is transformed for the better. You will never regret it!