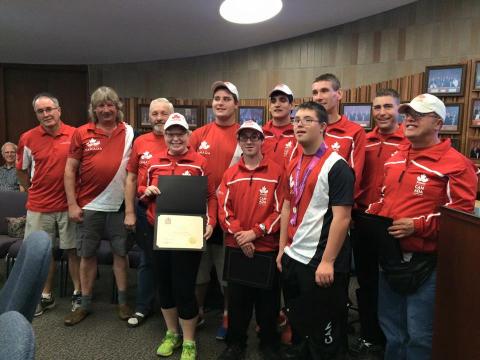 Special Olympics BC – Mission is always welcoming athletes and volunteers to get involved in our joyful community!
Please click the button below to learn about the strong safety protocols in our programs, and complete your registration forms.
Please submit registration forms to julia.localcoordinatormission@gmail.com.
*Please note: In the 2021-22 season, filling out the registration forms does not automatically mean you'll be able to participate in everything you signed up for. We might not be able to offer all sports, due to the unique circumstances of this season. Even so, it is still important to fill out your complete registration form with your usual requests. We need to know what athletes and coaches are interested in, so we can make the best possible plans for our community under the circumstances. Thank you for registering and reconnecting with us!
About SOBC - Mission
Special Olympics BC – Mission offers floor hockey, bowling, basketball, rhythmic gymnastics, swimming, and track and field programs for local individuals with intellectual disabilities. We also offer FUNdamentals for children with intellectual disabilities ages seven to 11.
The local soccer team earned the opportunity to be part of Team Canada for the 2015 Special Olympics World Summer Games in Los Angeles, where they finished fourth and represented Mission with pride.
To register, please fill out the athlete or coach/volunteer registration forms and the medical form linked below and bring them to the program you wish to attend (check out the program schedule below).
Please contact SOBC – Mission as below for further details.
Support SOBC - Mission
To donate directly to SOBC – Mission click on the button below.
Contact
Julia O'Connor
julia.localcoordinatormission@gmail.com
778-773-8269