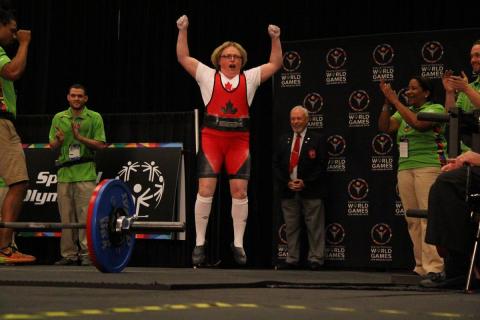 All Special Olympics BC athletes and volunteers are asked to complete the 2020-21 registration form and waiver. Please know that filling out these forms does not automatically mean you'll participate in everything you signed up for. Locals might not be able to offer all sports due to the unique circumstances of this season. It is still important to fill out your complete registration form with your usual requests. We need to know what athletes and coaches are interested in, so we can make the best possible plans for our community under the circumstances.
*For NEW athletes and volunteers signing up for the first time please email the contacts below with your completed forms (link above) or to request a registration package.
During regular programming:
Special Olympics BC – Chilliwack has 65 athletes who participate in 10 local sport programs.
Programs are run by volunteers and volunteer coaches from September to June. Skill improvement, cardio, fitness, and strength development are key elements to each weekly training session. See the downloads section for current program schedule. To register as an athlete, please contact Anita Unrau. 
SOBC – Chilliwack is proud to have two athletes that have won gold medals at the last two Special Olympics World Games and have had many reach the podium at regional, provincial, and national levels of competition.
We are looking for volunteers who would like to be a part of our Local Committee to ensure that our programs continue to grow and give local athletes an opportunity to participate in sport. Please contact Judy Garrett if you would like to help.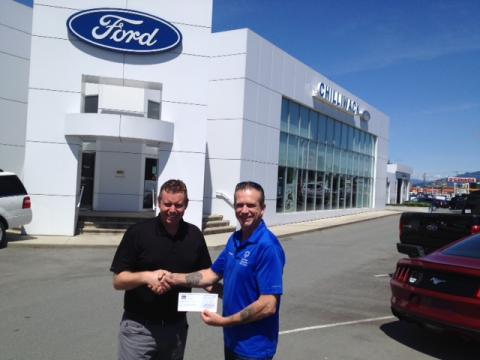 SOBC – Chilliwack is grateful to Chilliwack Ford for their donation of $1,000! General Manager/Partner Scott Blankley presented the cheque to SOBC – Chilliwack's Wayne Williams in May 2016.
SOBC – Chilliwack would also like to express thanks to the Chilliwack Foundation, Sardis Kiwanis Club, Fraser Valley Rhythmic Gymnastics Club, Safeway, Staples, Knights of Columbus, Elks Club, Mary Brown's, the Downtown Business Center, and local merchants who support our events and athletes throughout the year. It would not be possible for our diverse programs to run without your support and we are very grateful.
To donate directly to SOBC – Chilliwack click on the button below.