Special Olympics Team BC 2020 Cross Country Skiing Coach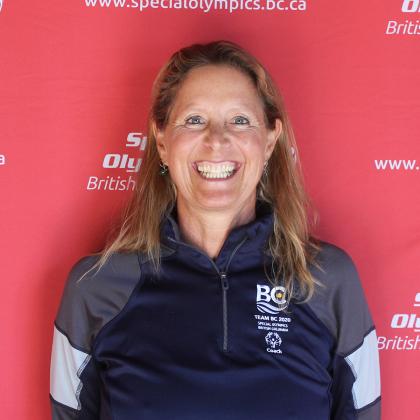 When and how did you get involved with Special Olympics?
I joined SOBC as a parent volunteer 10 years ago and quickly became a coach.
Will this be your first Special Olympics Canada Games? If not, which other National Games were you part of and in what role(s)?
I have participated as an Assistant Coach in three National Games. My first Winter Games were in St. Albert in 2012 on the cross country ski team and again in Corner Brook in 2016. I have also been to Antigonish, Nova Scotia, as Assistant Coach for soccer for the National Summer Games in 2018.
What does it mean to you to be part of Special Olympics Team BC 2020?
I love being part of Special Olympics Team BC 2020. I have known many of these athletes for 10 years and to support and see them and new team members achieve new personal bests makes me very happy. They also push me to practice what I coach!
What is/are your goal(s) for these National Games?
To support both coaches and athletes so that we are all ready to represent B.C. to the best of our abilities and have fun on the journey.
What is your favourite Special Olympics experience to date?
One of my favourite SO moments was at Corner Brook, Newfoundland. An athlete from Prince George had a challenging Games: He nearly missed the flight east, he broke a pole on one of his races, and along with a few other challenges he didn't medal; so I brought out the colouring pencils and paper and had some of the team make a medal. He wore that medal around his neck for the remainder of the games and all the way home!!
What does competing at National Games mean to your athletes? (or, if this is your first National Games, competition in general)
They are all training hard and proud to be on the team.
What storylines are you excited to see develop in your Team BC sport team leading up to the National Games?
Every athlete has a different approach to their training due to varied physical and mental abilities. Training together as a team pushes them all to better fitness, and having fun is the way. Each practice they share new goals and achievements. We are including Social workers and families so they are also part of the training team and know what expectations we have (which are often higher than they realize!!).
What would you say about Special Olympics to encourage someone to get involved?
This is a community and also a journey to fitness, healthy eating, and good lifestyle choices. SO is a way for families to share a common interest with their athlete outside the family home by volunteering and benefitting from this community too.