The 2023 Special Olympics BC Winter Games athletes, volunteers, and supporters will respectfully gather on the traditional, unceded territory of the Secwepemc Nation, specifically the territory of Simpcw, Adams Lake, Neskonlith, and Tk'emlups te Secwepemc People.
Opening Ceremony: Tournament Capital Centre
The Tournament Capital Centre is Kamloops' home for hosting sporting events! The Opening Ceremony on February 2 at 7 p.m. will be held in the 65,000-square-foot field house, kicking off the 2023 SOBC Games in style.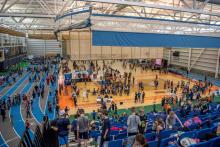 5-pin bowling: Falcon Lanes
120 athletes competing
Falcon Lanes hosted bowling competition during the 2015 and 2017 SOBC Games, and is home to the SOBC – Kamloops bowling program. 5-pin bowling is a popular Special Olympics sport, and SOBC bowling athletes can't wait to compete in the 2023 Provincial Games! SOBC will attempt to bring in bleachers, but spectator viewing may be limited.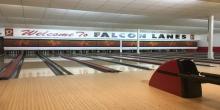 Alpine skiing: Sun Peaks Ski Resort
29 athletes competing
Sun Peaks is Canada's second-largest ski area, measured at 4,270 acres spread across three skiable peaks, each with a personality of its own. Sun Peaks receives 6 metres of snow annually, and the mountains become covered with the light, dry powder that is famous to the interior of B.C.
On Friday February 3, any spectators MUST have a lift pass and be able to ski or board to the competition run; the run will not be visible from the mountain bottom or on foot.
On Saturday February 4, the competition run can be viewed from the base of the ski hill, near the Sun Peaks resort.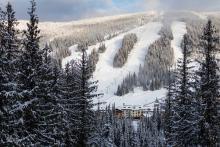 Cross country skiing: Stake Lake Trails
38 athletes competing
Located 25 km south of Kamloops, Stake Lake Trails is for anyone who loves sunshine and great snow. 38 cross country skiing athletes will take on this winter playground! This venue features 60 km of scenic, expertly groomed cross country ski trails. More information on exact trails will be provided soon.
The venue's parking lot is open to the public, but spots may be limited. Do NOT park on any of the roads.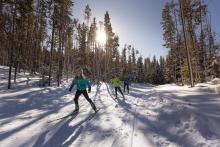 McArthur Island Sport and Event Centre
McArthur Island Sport and Event Centre is Kamloops' home for all things sports! This multi-sport complex is familiar to and popular with Special Olympics athletes, as the home of the SOBC – Kamloops curling program and host of competition in the 2015 SOBC Winter Games.
Curling – 95 athletes competing
Curling athletes are ready to take the ice at the venue's curling rink! There will be a lounge with spectator seating to watch all the curling action.
Figure Skating – 19 athletes competing
speed skating – 18 athletes competing
The venue's 800-seat Olympic size arena will be used for figure skating and speed skating competitions.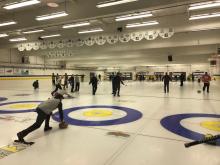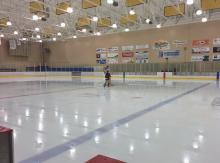 Floor hockey: Thompson Rivers University Gymnasium
160 athletes competing
Set on 250 acres with stunning views of the North and South Thompson Rivers, Thompson Rivers University sits at the heart of Kamloops, offering plenty of opportunities to live, work, play and learn.
Floor hockey fans: A suggested spot for light lunches and refreshments is the Taste Kitchen (inside the Tournament Capital Centre lobby at 910 McGill Rd)
NO outdoor shoes are allowed inside the gymnasium. 
Snowshoeing: West Highlands Park – soccer field
39 athletes competing
West Highland Park's soccer field will be transformed into a 400m track for snowshoeing competition.
There will not be any indoor facilities to watch competition, so please dress warm.
Parking will be available.