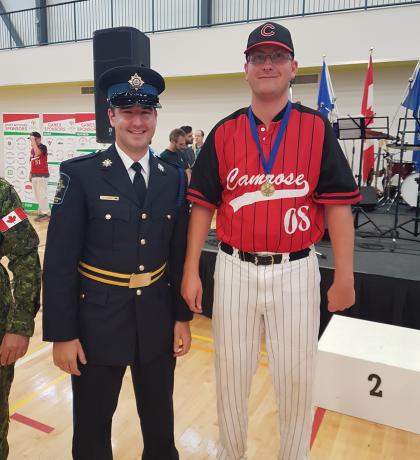 We are pleased to announce that Alberta Correctional Services officer, Thomas Cleal has been selected to represent the Alberta Law Enforcement Torch Run (LETR) at the 2020 Special Olympics Canada Winter Games Final Leg in Thunder Bay.
Thomas has been involved with Alberta LETR for the past four years and has participated in both the 2017 and 2019 Final Leg Runs for the Special Olympics Alberta Provincial Games in Medicine Hat and Calgary, respectively.
He currently represents LETR as a Committee Member with the Calgary region and also coaches Special Olympics as an athletics coach.
Thomas got introduced to LETR through a colleague and has involvement has only grown every year since.
Thomas has also been selected three times to represent Alberta LETR at the LETR International Conference.
"The 2017 Alberta Summer Games, held in Medicine Hat. After completing the Final Leg and running in the Flame of Hope to the Opening Ceremonies, I stayed for the remainder of the games and watch several events throughout the weekend, including some of the athletes I had coached in track and field. At the culmination of several events, I took part in the medal ceremonies, where I was able to present athletes with their medals for their achievements. Having a front row seat to witness the pure joy that these athletes had after achieving their athletic goals and receiving their medals is something I had not witnessed before that weekend, and is something that I will always remember and cherish." - Thomas Cleal on his favourite Torch Run memory.
Congratulations to Thomas and we will be cheering you on as you help usher the Flame of Hope into Nationals.