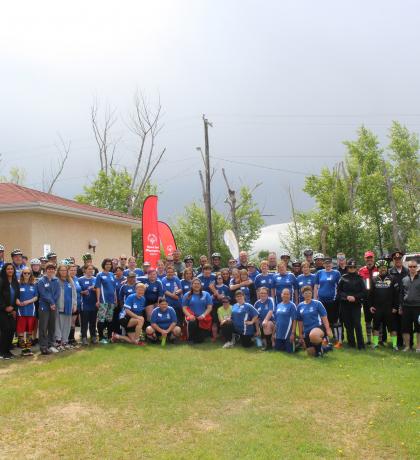 The 16th Annual Law Enforcement Torch Run 500km Bike Ride was another awesome display of commitment by law enforcement on behalf of Special Olympics athletes. On June 8th riders travelling from Fort McMurray and Lethbridge converged on the Special Olympics Women in Sport Soccer Camp in Edmonton. Once again the riders showed their commitment by raising over $30,000 (before expenses).
Even though challenging weather dogged both legs of the ride, the northern team rode straight through to the finish line. Due to extreme weather conditions, the southern route had to alter original plans and shorten their ride. Although there were many challenges, safety of our LETR members was non-negotiable. They all arrived safely in Edmonton at noon on June 8th to meet the athletes who were waiting for them at the Women in Sport Soccer Camp.
Thank you to the Royal Canadian Mounted Police, Alberta Sheriffs, Taber Police Service, Calgary Police Service, Alberta Corrections, Lethbridge Police Service, Blood Tribe Police Service, and Canadian Armed Forces for supporting Special Olympics!