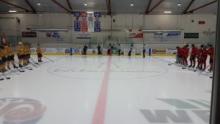 On February 16 Wetaskiwin Fire Services and Wetaskiwin R.C.M.P. took to the ice at the Wetaskwin Civic Centre for the Battle of the Badges rematch. The event raised $10,000 for Special Olympics Alberta and Special Olympics Alberta - Wetaskiwin.
There was an incredible turnout for the event and Wetaskiwin Fire Service walked away with the victory. With the R.C.M.P winning last years match, this result sets up the trilogy match!
Thank you to our presenting sponsor Dyck Insurance without you this event would not be possible!