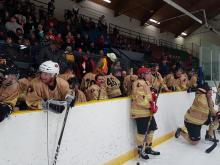 On February 23 Camrose Fire Services and Camrose Police Service hit the ice at the Max McLean Arena for the first ever Battle of the Badges in Camrose. The event raised $19,000 for Special Olympics Alberta and Special Olympics Alberta - Camrose.
It was an amazing game that was won by the Camrose Police Service. It was entertaining throughout and featured a frisbee toss and a mascot shootout that was won by the Firefighter's mascot. Thank you to Boston Pizza for providing pizza for the event.
Thank you to our presenting sponsor Align Builders. Without you this event would not be possible!