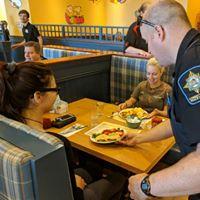 Cops and Crepes is an official Law Enforcement Torch Run fundraising event combining the love of breakfast and brunch with service with a smile from those who serve and protect you.
Law enforcement officers, Special Olympics athletes and volunteers will join together to wait on tables and collect donations at the Cora Restaurant in Red Deer (6858 Gaetz Ave #3) on May 2nd and May 3rd from 7:00 a.m. to 3:00 p.m. to support Special Olympics Alberta.
Come by to enjoy a great meal with friends and family, make a donation, and show Cora Restaurants how much we appreciate their support!