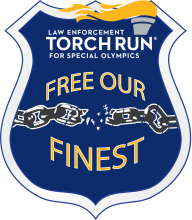 From Friday, September 13th to Sunday, September 15th, the Alberta Law Enforcement Torch Run for Special Olympics Alberta (LETR) and Walmart Canada will team-up to hold a major fundraising event in support of Special Olympics Alberta.
Members from Wetaskiwin's law enforcement agencies will stay atop the Walmart at 3600 65th St. until Sunday at 4 p.m. after being hoisted up to the top of the building at 10:00 a.m. Friday morning.
The opening ceremonies will begin at 9:45 a.m. and members of the public are encouraged to help Free our Finest and support Special Olympics by stopping by to make a donation, or by purchasing a hotdog or pop at the event. LETR shirts, and other merchandise will also be on hand for purchase with all proceeds going to Special Olympics.
On Friday evening from 7 p.m. to 9 p.m. there will be a family dance that is free and open to the public.
On Saturday afternoon from 10 a.m. to 4 p.m. stop by for LETR vehicle demonstrations.
On Sunday morning at 9 a.m. there will be a pancake breakfast available for purchase.
There will be a memorial for Lieutenant James Gilbert of the Wetaskiwin Fire Department.
If you would like to come out and volunteer please contact James Jones (James.Jones2@albertahealthservices.ca).
Stop by, meet Special Olympics athletes, and hear their stories. Interested in sponsoring this great event? Contact the Lorrie Sitler (lsitler@specialolympics.ab.ca).
Sponsors