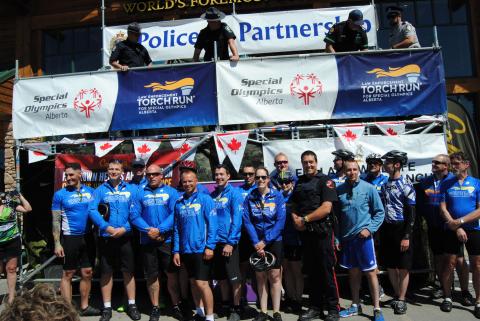 The annual Law Enforcement Torch Run 500km Bike Ride for Special Olympics Alberta will have law enforcement officers cycling on June 7th from Lethbridge, Ft. McMurray and Calgary and arriving in Edmonton on June 8th to help raise awareness and funds for people with intellectual disabilities.
Alberta Corrections, Alberta Sheriffs, Calgary Police Service, Canadian Armed Forces, Lethbridge Police Service, RCMP, Animal Services, Blood Tribe Police, Taber Police Service and other Law Enforcement Members will be pedaling the 500km to meet other law enforcement agencies in Edmonton.

Riders will arrive in Edmonton at the Edmonton Croatia Soccer Club (21461 Fort Rd NE) on Saturday, June 8th at noon during Special Olympics Alberta's Women in Soccer Development and Awareness Camp.

Departure: June 7 at 9 a.m. from CASA Lethbridge, 230 8 St. S.
Fort McMurray Send-Off: June 7 at 11 a.m. 150 MacLenna Crescent
Arrival: June 8 at 12 p.m., Edmonton Croatia Soccer Club, 213161 Fort Road NE.

All sponsors are welcome to come and meet the riders.
Incentives

Individual riders who raise funds will have a chance at the following incentives
$300- Cycling jersey
$600- Cycling jersey and cycling shorts