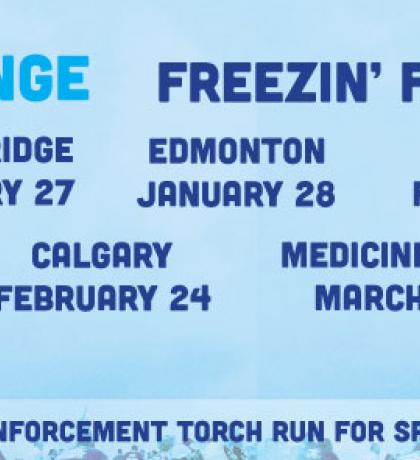 EDMONTON, AB, November 7, 2017- Have you ever dove into freezing cold lake waters in the middle of winter?
Polar Plunge dares people to come party and plunge on frozen lakes in Alberta all to support the Special Olympics movement.
This year, Polar Plunge Alberta is expecting over 1,000 people across the province to take the plunge to raise awareness and funds for Special Olympics Alberta. The event is presented in partnership with Law Enforcement Torch Run (LETR) for Special Olympics Alberta and challenges people to bravely jump in five different cities. The events across Alberta always draws in a big-hearted dare devils from universities, corporate members, government officials and even professional athletes who are brave enough to take on the cold to make sure that thousands of people with intellectual disabilities are empowered through sport.
"Our goal is get 1,000 people across Alberta to plunge for Special Olympics!" said Johnny Byrne, Special Olympics Alberta CEO and president.
"We have the new event addition of Red Deer hosting a Polar Plunge event this season! Last year, we had Rick Mercer come plunge in Edmonton with Olympic medalist Jamie Sale while many sport celebrities and government officials plunged in Lethbridge, Calgary and Medicine Hat. The event keeps growing and getting better and we're happy to announce that Mr. Lube has come on board as an incentive sponsor across the province."
2018 POLAR PLUNGE ALBERTA EVENTS
Lethbridge: January 27 at Henderson Lake Park
Edmonton: January 28 at Lake Summerside
Red Deer: February 3 at Bower-Kin Community Center
Calgary: February 24 at Arbour Lake
Medicine Hat: March 10 at Family Leisure Centre
2018 Incentive Sponsor: Mr. Lube
Last year, the Polar Plunge raised over $167,000 and saw more than 650 people from four cities take the plunge. All event locations are open for registration at www.alberta.polarplunge.ca. Each plunger will only need to raise $75 for a chance to plunge.
For more details and photos on Polar Plunge Alberta, go to www.alberta.polarplunge.ca, You can find past year's photos and videos from each of the events on Facebook /plungealberta or Twitter #PolarPlungeAB, #PolarPlungeYEG, #PolarPlungeYYC, #PolarPlungeYQL, #PolarPlungeMedHat, #PolarPlungeYQF.
Law Enforcement Torch Run for Special Olympics Alberta
Internationally the Law Enforcement Torch Run (LETR) for Special Olympics is the largest grassroots fundraiser and awareness vehicle for Special Olympics. More than 85,000 law enforcement officers from 10 Canadian provinces and 3 territories, the 50 United States, and 46 Countries internationally form the largest grass roots fundraiser for Special Olympics. Last year in Alberta, over $460,000 was raised across the province, benefiting local programs. For more information on the Law Enforcement Torch Run for Special Olympics Alberta, please visit www.albertorchrun.ca. Follow us on Facebook /AlbertaTorchRun or Twitter @Alberta_LETR.
Special Olympics Alberta
Special Olympics Alberta is dedicated to enriching the lives of Albertans with intellectual disabilities through the transformative power and joy of sport. Our vision is that sport will open hearts and minds towards people with intellectual disabilities and create inclusive communities.
Special Olympics Alberta's programs cater to all ages and a wide range of abilities to over 3,300 athletes in more than 140 communities. We provide world class sports programs that are run daily by over 1,300 volunteers. For more information on Special Olympics Alberta, visit, www.specialolympics.ca/alberta and follow us on Facebook, Twitter, Instagram, Flickr and YouTube. #ChoosetoInclude
- 30 -
For more information please contact:
Lorrie Sitler
Manager
Law Enforcement Torch Run for Special Olympics Alberta
P: 780-608-8360
E: LSitler@specialolympics.ab.ca
Katherine Dalusong
Manager of Marketing and Communications
Special Olympics Alberta
P: 780-638-4620
E: KDalusong@specialolympics.ab.ca