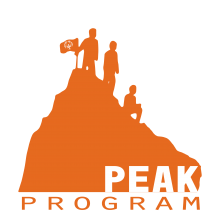 The brand-new PEAK Program, which stands for Provincial Exercise & Activity Knockout Program, is ready for you!
We know you're missing your programming, and so are we! So, to help connect us all, keep us active, and get game ready, we're excited to introduce PEAK Program. This 8-week program is going to offer weekly workouts for your body and your mind.
Each Monday, we'll have a session to maximize your health and/or mind – covering topics from attention control to visualizing goals. And each week, we'll also have a workout delivered by coaches, volunteers, and athletes from across the province.
Aside from these two set activities, those that enroll in PEAK will choose an exercise goal that makes sense for them. You can choose to commit to exercise from 15 minutes to 1.5 hours every day during this Program.
Each week, there is also a BINGO card of activities that you can use to help guide your activities and keep you on track.
With each of your activities that you complete, you earn points! And, if you'd like to create a team with some of your friends, you can not only keep each other accountable to make sure you do your exercises, but you'll also earn team points when you all complete your activities!
The PEAK website is back and better than ever! Click here to access it now.
Register here: https://bit.ly/34bsONg
Tracking Your Climb to the PEAK: https://bit.ly/30kLfOr
Max Mondays and Workout Wednesday replays are available on our YouTube: https://www.youtube.com/SpecialOAlberta
These sessions will still take place LIVE on the SOA PEAK Program Facebook Group.