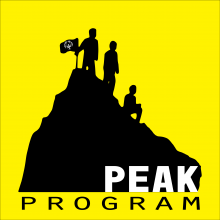 PEAK (Provincial Exercise and Activity Knockout) Program is back for eight-weeks starting May 17, 2021. Every Monday, Tuesday and Wednesday night, PEAK members will have the opportunity to attend up to four virtual sessions for your body, your mind, and your health.  
Along with weekly virtual sessions athletes will be tasked with hitting their fitness goals, participating in challenges, complete their BINGO cards, learn Tips From The Summit, and a variety of fun activities like virtual dances! 
Further information can be found at  https://www1.specialolympics.ab.ca/peak-program/. 
Staying connected is one of the core components of the PEAK Program and, to do so, we are asking athletes to sign up for our Healthy @ Home newsletter. The newsletter is released every Monday and will be your go-to source for information, virtual session announcements, and all the activities planned for the PEAK Program for that week. 
Subscribe here: https://mailchi.mp/specialolympics.ab.ca/healthyathome