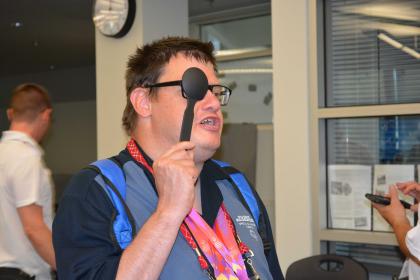 Special Olympics has become the largest global public health organization dedicated to serving people with intellectual disabilities.

Good health improves the lives of people with intellectual disabilities (ID). It improves each Special Olympics athlete's ability to train and compete in sports. Special Olympics works with partners, governments and policy-making organizations to ensure health services, education and opportunities reach people with ID.
Work That Changes--and Saves--Lives
Despite severe need and higher health risks, people with ID are often denied health services. There is often a misconception that the poor health of people with ID is due to their disability.
Research has shown that it is in fact a result of a breakdown in health education, health promotion, and health care. This can and should be addressed.
Over the years, Special Olympics health programs have improved the health of our athletes. In many cases, the programs have profoundly changed--or saved--their lives.
Healthy Athletes
Officially launched in 1997, Special Olympics Healthy Athletes organizes its events in a welcoming, fun environment. Its events educate athletes on healthy lifestyle choices and identify problems that may need additional follow-up.

Despite a mistaken belief that people with intellectual disabilities receive the same or better health care than others, they typically receive sub-standard care, or virtually no health care at all.
There are seven areas of healthy athletes examinations: Fit Feet (podiatry), FUNfitness (physical therapy), Health Promotion (better health and well-being), Healthy Hearing (audiology), MedFest (sports physical exam), Special Olympics-Lions Clubs International Opening Eyes (vision), Special Smiles (dentistry).
"Healthy nutrition helps to build many strong foundations in Special Olympics Athletes. Not only will it help to fuel physical activity and sport, but sound nutrition contributes to a healthy body weight, optimal growth and development and disease prevention."
Healthy Athletes in Alberta
With our national partnership with Sobeys, Special Olympics Alberta is able to offer nutrition workshops to athletes and their families throughout the year in communities across the province for Health Promotion. These workshops are run by Sobeys nutritionists.
Check out our Sobeys Better Food Fund partnership.
Through various partnerships with health practitioners, Special Olympics Alberta has been able to provide FUNfitness, Opening Eyes and Healthy Hearing at past events and Team Alberta training camps. It is through community engagement and health partners that allow us to provide Healthy Athletes programs to our athletes.
If you're interested in partnering with Special Olympics Alberta for a Healthy Athletes program, please contact director of sport, Jill Moore at jmoore@specialolympics.ab.ca or call 780-415-0719.