Special Olympics sports competitions are based on the idea that athletes of all abilities should be given an equal chance of succeeding, whether it is a personal best or a gold medal.

Special Olympics calls this competition-level matching "divisioning." It's a fundamental rule at Special Olympics that athletes in competitions are matched up with others of the same gender, about the same age and most importantly, of about the same competitive ability.

Evening out by skill level and matching for age and gender makes Special Olympics events more exciting and meaningful for the athletes and the fans watching.

Divisioning is a two-stage process. Before each competition, a time, score or skill assessment is submitted for each athlete or team. The divisions are then set up based on the information on each athlete's skill level so that each set of competitors is closely matched.
Why this is important
Divisioning allows athletes in all divisions to train and compete at a high performance level if they desire. Being eligible to compete in a high performance level provides motivation and allows athletes to succeed.
Divisioning is inclusive and celebrates athlete achievement.
Maximum Performance Rule (MPR)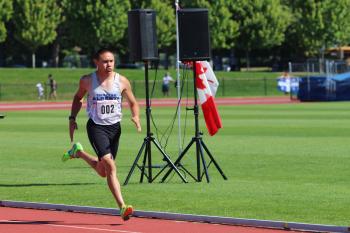 Divisioning heats are conducted to ensure that athletes compete against athletes of a similar ability level in their final competition. To ensure that athletes compete at the best of their ability during the divisioning round, the maximum performance rule will be implemented.
Maximum performance would indicate that there should be no more than 15% difference in performance between divisioning and final events. If an athlete exceeds their divisioning event performance by 15% in the final round of competition the following shall occur.
Athlete is flagged under the Maximum Performance Rule (MPR)
The athlete will be re-divisioned and placed in the correct division as indicated by their time/distance.
The athlete will be eligible for a medal if their time/distance warrants.
Re-divisioning will not affect the standing of athletes in the division where the flagged athlete is placed. (i.e. re-divisioned athlete places third in new division, current athlete in division will also be awarded third place).
Flagged athlete will not receive any selection points (for advancement to higher levels of competition) for the event.
The Maximum Performance Rule would not apply if an athlete when re-divisioned would still be placed in the same division.
If the coach is of the opinion that his/her athlete has not competed at the best of their ability in the divisioning race, and may be in danger of violating the MPR, they have the option to submit a faster time for their athlete so that they can be placed in a division which reflects their ability.
If an athlete falls or is disqualified in their divisioning event the coach has the following options:
Submit a faster time or longer distance/greater height
Concede the event qualifying time/distance/height
Rerun of the event*

*NOTE: The following events are eligible to be rerun:
Cross Country: 100m & 500m
Snowshoeing: 100m & 200m
Speed Skating: 111m & 222m
Athletics: 50m, 100m, 200m, 400m, Hurdles
Aquatics: All 25m, & 50m races
If an athlete falls or is disqualified in the second divisioning race, they will have the following two options:
Submit a faster time
Concede the event qualifying time

Implementation of the MAXIMUM PERFORMANCE rule cannot be protested.
Cross Country Skiing Exception
For sports like Cross Country Skiing, where environmental changes can impact the performance of the athlete, the following procedures should be implemented:
Prior to the start of each cross country divisioning event, a forerunner would ski the track to determine a baseline time for the course. The same forerunner would ski the track again prior to the final race in each event to establish if the track conditions favour a faster time. This will establish if a percentage change is required to be made to the maximum performance rule. Coaches will be informed if a percentage change is to be made.