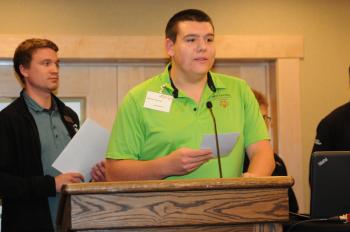 The Special Olympics Alberta Athlete Leadership Council (ALC) was created to be the voice of the athletes.  It is made up of athletes from all regions of the province who are elected by their peers to represent them and bring forward their ideas, suggestions, questions and concerns. This council is athlete run and staff supported.  They meet regularly to get updates from around the province and to discuss Special Olympics and athlete topics and to work on projects.  The ALC is guided by the athletes rights and responsibilities.
Special Olympics Alberta believes it is important for athletes to have a positive outlook, be dependable, demonstrate good sportsmanship and behaviour in and out of the competition. The main goals for this council is that athletes will feel empowered and are proud to be a part Special Olympics Alberta.  You can contact with your local representative if you have ideas, suggestions, questions and concerns.
 
2016 - 2018 Provincial Athlete Leadership Council

Dallas Sorken, Board of Directors - Athlete Representative
Hi my name is Dallas Sorken, I have been in Special Olympics for 15 years. I have participated in curling, floor hockey, track and field, softball, and bowling. I have coached swimming in the past and I currently coach track and field.

I am in my second term as a provincial ALC member. For hobbies I collect hockey figures, and go to concerts. Currently I am the Chair of the St Albert Athlete Leadership Council. I am also on the board for St. Albert Special Olympics as the athlete representative.
Hector Jean, North Representative
Bio coming soon.
Jessica McLean, Edmonton Representative
My name is Jessica McLean and I have been in Special Olympics for 17 years. I am currently registered in swimming, snowshoeing, and softball. I have been to 3 Provincial Summer Games and 2 National Summer Games. I also currently sit on the Edmonton Athlete Leadership Council.
Matthew Mundorf, Central Representative
Bio coming soon.
Mark Evans, Calgary Representative
My name is Mark Evans.  I am 33 years of age and have been an athlete with Special Olympics Calgary since 2000. 

I have participated in many of the sports with Special Olympics and have gone to tournaments and Provincials for weekends and flew to Hamilton with a group of golfers to participate with other athletes from Canada. I am looking forward to golfing in Medicine Hat this summer.

I charge the 2-way radios every weekend during the ski season for the volunteers and coaches and participate in our Alpine Skiing held on Sunday mornings. I also volunteer for Special Olympics for fundraisers and other events they have during the year when I can. This allow me to meet people and make friendships and I like to socialize. 

I enjoy taking an evening course once in awhile on things I enjoy. 



I am honoured to be a voice for the athletes by being the Calgary representative on the Provincial Alberta Leadership Committee. I work weekdays as a volunteer with the Venturers Society.  I work outdoors mostly and we do a lot of different types of jobs.  We clean up dead fall for acreage owners and chip the dead fall for other uses like spreading it on pathways in the parks and we have a machine that splits logs for firewood.  We perform trail maintenance in the backcountry and clean up sites and  restock campgrounds with firewood.  We also do special projects.  Different teams do different work but there are some things we all do like shovel snow and cut grass.  I enjoy working outside and with nature.  I get up early every morning during the week so I can go to Tim Hortons to meet with my friends where we visit and read the paper before we catch our ride to Kananaskis.

I like what I do because I am involved with a lot of people.
Rodger Gratton, Member at Large
My name is Rodger Gratton. I've been involved with Special Olympics for 18 years, as a 5 pin bowler, and soccer player. I've been to three provincial Summer Games, one in Lethbridge in 2005, where I won gold in 5 pin bowling, St. Albert in 2009, and Devon in 2013 where I won bronze in soccer. What I like most about Special Olympics, is the games and competitions, and meeting new people. I've enjoyed going and having fun at practices and competing in competitions. I am now involved with the Athlete Leadership Council with Edmonton and surrounding area, and am I'm enjoying it very much. I have been on the Edmonton ALC for 4 years. I'm looking forward to having more fun and making a difference.
Warren Pattison, Member at Large
My name is Warren Pattison and I have been involved with Special Olympics since 1993. I enjoy both competing in sport and being a member of the Athlete Leadership Committee. I have competed in numerous sports throughout the years, the most recent being alpine skiing. I am currently deciding which sport I would like to compete in next. 

My hobbies include camping, fishing, spending quality time with my family, and taking photos.
Andrew Chamczuk, Member at Large
My name is Andrew Chamczuk and I have been involved with Special Olympics for 11 years. I compete in floor hockey, speed skating, athletics, and golf. In my spare time I like to yoyo and hang out with my two cats. I am excited to be a part of the Provincial ALC and represent my fellow athletes.
Doug Hutt, Member at Large
My name is Doug Hutt and I have participated in Special Olympics since 2008. I currently play floor hockey