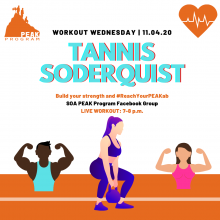 Each week from 7-8 PM MT join us for Workout Wednesdays where our facilitators will guide you through a workout focusing on muscle activation, stretching, and exercises to improve your strength. Our Workout Wednesday sessions will take place LIVE from our SOA PEAK Program Facebook Group.

For those unable to attend the live session, videos will be made available to watch later via the Facebook Group and the SOA PEAK website.

This week's facilitator is personal trainer, Tannis Soderquist. Who is ready for our week 3 session? Join Tannis for a strength session on November 4.
To participate you must register in the PEAK Program.