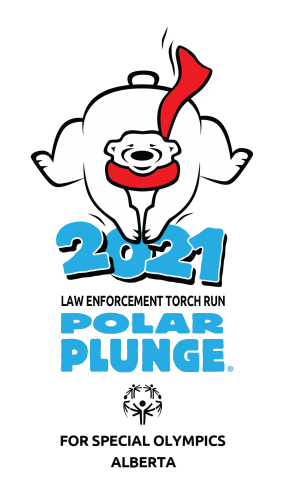 You can once again take the Plunge in Alberta in support of Special Olympics Alberta – only VIRTUALLY! The Polar Plunge, presented by the Law Enforcement Torch Run, challenges ANYONE to bravely participate in this exciting and accessible fundraiser, while helping 140 communities across Alberta. It's a great way for everyone - individuals, organizations, and teams - to get involved in support of Special Olympics and show winter who's boss.
A virtual plunge means we won't be able to capture your #freezinforareason experience. But that means we can get creative with sharing your plunge videos with the polar plunge community! So, we are asking all plungers to share your plunge videos with us by posting it to social media, tagging us @PlungeAlberta, and making sure the post is public so we can share to our channels. 
We are also asking that you send your videos via WeTransfer to info@specialolympics.ab.ca. The videos that we receive will be uploaded to our 2021 Virtual Plunge video website (coming soon), which we hope will facilitate a community of virtual togetherness. WeTransfer is a free cloud-based online platform designed to allow you to transfer different types of files to other users on the Internet. Click HERE to upload your video, copy the link, and then send your submission to info@specialolympics.ab.ca. 
The beauty of the virtual polar plunge is that you have the ability to get as creative as you want! Whether snow angels, cold buckets of water, or in a kiddie pool in your backyard, the opportunities are almost endless! Have some fun and get creative! We have some videos coming out each Monday (starting Dec 21, running for about 6 weeks - @PlungeAlberta) of "virtual plunge ideas" to get folks started. Pretty much any crazy idea that you come up with is allowed (just be safe, obviously)! If you have any specific questions, don't hesitate to ask.
Our virtual Polar Plunge season will run until March 13th, which would have been the final in-person plunge of the season. This means there is a lot of flexibility as to when you can do your plunge and you have lots of time to fundraise and earn incentives!
In recognition of our typical in-person celebrations,
we'll be recognizing these locations on the following dates:
January 31 - Edmonton
February 6 - Lethbridge
February 20 - Calgary
March 6 - Red Deer
March 13 - Medicine Hat
Since this year's plunge is fully virtual, we plan to have an exciting online ceremony to kick off the plunge season here in Alberta on January 31st at 11:00 a.m. MT. It will be live streamed on Facebook and YouTube for everyone to tune in.