The Ultimate Driving Experience
Are you ready for the Ultimate Driving Experience?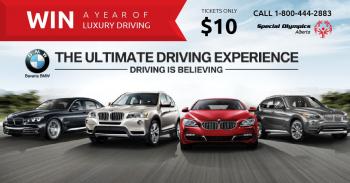 Special Olympics Alberta would like to thank all the amazing volunteers and communities that took part in the 2017 BMW Raffle!
THE EVENT RAISED OVER $53,000 FOR SPECIAL OLYMPICS PROGRAMS ACROSS ALBERTA.
The official draw took place at 7 p.m. at Edmonton's Bavaria BMW on December 8, 2017.
FIRST PLACE WINNER: DON CHOMYK, EDMONTON, AB, TICKET NUMBER: 08329
SECOND PLACE WINNER: MELODIE ANDERSEN, OLDS, AB, TICKET NUMBER: 02171
THIRD PLACE WINNER: ALLAN LuoMALA, MORINVILLE, AB, TICKET NUMBER: 05672
About the 2017 BMW Raffle
Special Olympics Alberta and Bavaria BMW have teamed up to get you in the driver's seat of a luxury BMW for a year. 
 
Purchase a raffle ticket for your chance to win a 1 year lease of 4 premium vehicles in 3 month durations of each model: 2017 BMW 328 M Sport, 2017 BMW 528 M Sport, 2017 BMW X5 35i and 2017 BMW 428 Cabriolet. Vehicle leasing provided by Bavaria BMW
Tickets are only $10 each. Tickets are on sale August 1, 2017 and raffle the draw is on December 8, 2017 at 7 p.m. at Bavaria BMW, 18925 Stony Plain Road, Edmonton, AB in the Pre-Owned Show Room. 
 
First prize also includes: 4 gift certificates for 1 night stay and breakfast for two at the Chateau Lacombe and $500 Gas Card (MSRP $21,500 includes vehicle leasing, hotel and gas).
Second Prize: WestJet Gift of Flight is a WestJet flight for 2 guests to any regularly scheduled WestJet destination. All booking and travel must be completed by December 8, 2018 (Value $2,900)
Third Prize: Signed print of Wayne Gretzky and Joey Moss. Dimensions 3.9'x 3.2' (Value $500).
There are only 11,500 tickets printed and all proceeds go towards Special Olympics Alberta. 
Notice: Must be 18 years of age to purchase ticket. Must have valid driver's license. Restrictions: Prize must be accepted as presented. No substitutions. Please take a look at  full raffle rules and regulations.
License Number: 467525
Special Olympics Alberta would like to thank Edmonton Bavaria BMW, Westjet and Janet and Jerry Tryhuba for donating all the fantastic prizes. 
The following communities are to contact the Special Olympics Alberta office info@specialolympics.ab.ca as these ticket numbers have not been accounted for or verified: 
Ticket numbers
131-140               Lethbridge
141-150​               Lethbridge​​​​​​
901-910               Calgary
1411                    Lakeland
1431-1440           Lakeland
1441-1450           Lakeland
2221-2230           Olds
6271-6280           Strathcona
8381-8390           Edmonton
8391-8400           Edmonton
8401-8410           Edmonton
8411-8420           Edmonton
8911-8920           Edmonton
7101-17110         Bavaria
If these tickets are not submitted or accounted for and were ineligible for the draw.