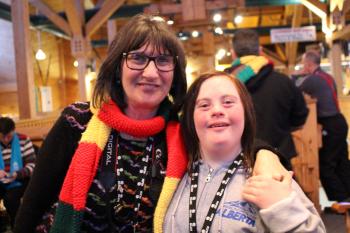 Special Olympics allows people with intellectual disabilities a chance to meet other people, be involved in a sport with others at a similar level and have success in it. We are really grateful for Special Olympics and the coaches. 
Diane Gersky, mother of Special Olympics athlete, Alana Gersky
Families are one of Special Olympics' most significant and influential assets. They are some of our strongest supporters and ambassadors. Family members often become spokespeople, coaches, help transport athletes, raise funds, officiate and chaperone. They also often offer training and guidance for new volunteers.
Just like any commitments to sport, a supportive environment goes a long way to foster growth.
Family and support members are expected to: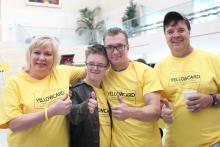 Be the number one fan. Encouragement and high fives go a long way to build the confidence and self esteem of budding athletes who are trying something new for the first time.
Provide or support completion of all registration and medical forms to ensure that staff, volunteers and coaches have the necessary information to create the best development of an athlete.
Ensure that athletes are ready to perform their best at practices, competitions and games. This includes having the correct apparel and equipment and proper nutrition.
Special Olympics Alberta strives to make sport open to all families. If there are obstacles in the expectations for family and support systems of athletes, please contact Special Olympics Alberta.