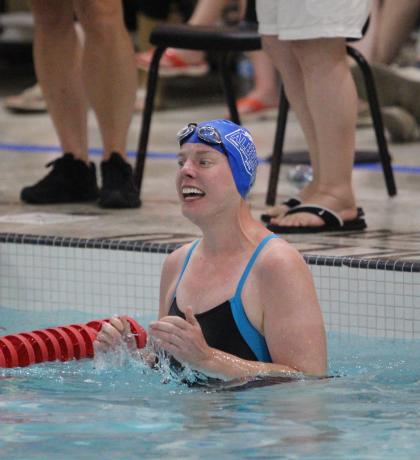 In 1998 Candice Bagan signed up for Special Olympics, diving right into a number of the offered sports including floor hockey, soccer, bowling, athletics, and most recently – swimming.
Four years ago, Candice decided to take up swimming after having issues with her knees.
"I wasn't ready to give up Special Olympics and I decided to do something better for me, so I started swimming," said Candice. "My favourite [stroke] is butterfly, I like the short distance races."
The 38-year-old feels reinvigorated in the pool and her drive allows her to compete at a high level.
This commitment earned Candice a spot on Team Alberta this year and she took full advantage of the opportunity.
Candice won four gold medals at the 2018 Special Olympics Canada Summer Games in the 25m back (F3), 25m butterfly (F1), 50m freestyle (F9), and the 100m freestyle (F2).
Winning Nationals was an incredible achievement and her success was recognized further when she was selected to Team Canada.
"It is still a shock because I didn't know I was gonna get picked, but I am looking forward to travelling across the world and getting to meet different people," said Candice. "My family is already getting pumped for me to represent Canada."
Candice will represent Canada at the 2019 Special Olympics World Games in Abu Dhabi, United Arab Emirates.
She is honored to be part of this team and looking forward to testing her skills against the best in the world.
"I am gonna try my best and if I don't come home with any medals at least I showed a good example for our country," said Candice.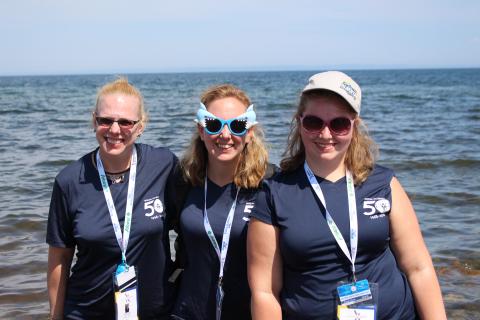 Her training has begun, but she will continue her regular routine of walking to-and-from work at her job at Robin Hood in Sherwood Park, along with her scheduled swim practices twice a week.
"I get to the pool early and I just walk around the track a few times and then start doing dryland," said Candice. "I am committed to swimming and that is what I want to be my best in."
She is working with her SOA-Edmonton swim coach, Robyn Henwood to ensure she will be ready to go when she hits the lanes next year.
"[Robyn] is a very good encouragement and she believes in me that I can always do it and I try not to get to upset if I don't come home with any medals for her," said Candice.
Team Canada members gathered in Caledon, Ont. earlier this month for a training camp where they also met their coaches and attended information sessions to help prepare for Worlds.
Candice's training combined with a healthy diet has allowed her to lose over 40 pounds since 2017, which she discussed on Global News Morning Edmonton earlier this year.
She has an innate ability to overcome obstacles or any challenge in her way and she aspires to be a role model for others.
"I am just hoping people never give up and keep trying because one day you could have the opportunity to go to Nationals or Worlds," said Bagan.
She is hoping her journey will inspire her nephew and others to follow in her footsteps by joining Special Olympics.
This year marks Special Olympics' 50th Anniversary and the start of a five year plan to make inclusion a global reality with athletes like Candice leading the charge.
"I would say to [athletes] just try it and don't give up," said Candice. "If you're not that strong you will get stronger over a period of time. I wasn't a strong swimmer and look how far I have come."
Candice is challenging athletes to sign up for a local sport program today.