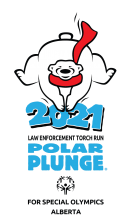 EDMONTON, AB, January 11, 2021 - 2021 marks the 10th year of the annual Law Enforcement Torch Run Polar Plunge for Special Olympics Alberta and we invite you to get freezin' for a reason once again – only VIRTUALLY! 
Safety has always been our highest priority with these events, and this year is no different. With the ever-changing restrictions and environment due to COVID-19, we are officially moving our Polar Plunge celebrations to a virtual space, which is the safest option for us all. 
 "The safety of our members, participants, and the public is of utmost importance, so making the decision to move the Polar Plunge to virtual-only, while unfortunate, was relatively easy for us," said Chief Lee Newton, LETR Executive Council Chair. "The Polar Plunge is a cornerstone event for LETR and we want to thank all of our supporters and our Platinum Sponsor, Mr. Lube for making the 2021 Polar Plunge a possibility. We want to encourage all Albertans to join us in celebrating our 10th anniversary by taking the Plunge for these great athletes." 
Plunge season will begin on January 31, 2021, kicking off with a virtual opening ceremony live on Facebook and YouTube, and the event will wrap up on March 13, 2021. 
Participants will have the opportunity to have some extra fun with their plunges this year as the sky is the limit when it comes to creativity – whether snow angels, cold buckets of water, or in a kiddie pool in your backyard, the opportunities are almost endless. 
The Polar Plunge, presented by the Law Enforcement Torch Run, challenges ANYONE to bravely participate in this exciting and accessible fundraiser, while helping 140 communities across Alberta. It's a great way for everyone - individuals, organizations, and teams - to get involved in support of Special Olympics and show winter who's boss. 
"While it is unfortunate that we will not be able to plunge in person, a virtual event gives us the opportunity to reach more individuals looking to participate in the cause," said Johnny Byrne, Special Olympics Alberta CEO. "It has been an incredible 10 years, and we look forward to celebrating this milestone with all of our supporters and you at our virtual opening ceremony."
Polar Plunge Virtual Opening Ceremony Details
Date: January 31, 2021
Time: 11 a.m. MT
LIVE on Facebook and YouTube
Dedicated fundraisers earn incentives like face masks, towels, and bath robes, and they can also qualify for provincial awards if they reach top fundraising status. 
In 2020, 590 Polar Plungers raised $197,000 in support of Special Olympics Alberta. Registration for this year's event is now open and for more information on how you can take the virtual plunge visit www.specialolympics.ca/albertapolarplunge.  
You can find photos and videos from past events on our Flickr or on our social media: Facebook, Instagram or Twitter. Follow along using the hashtags #PlungeX or #FreezinForAReason. 
Law Enforcement Torch Run for Special Olympics Alberta 
Internationally, the Law Enforcement Torch Run (LETR) for Special Olympics is the largest grassroots fundraiser and awareness vehicle for Special Olympics. More than 85,000 law enforcement officers from 10 Canadian provinces and 3 territories, the 50 United States, and 46 countries internationally form the largest grass roots fundraiser for Special Olympics. Last year in Alberta, $320,000 was raised across the province, benefiting local programs. For more information on the Law Enforcement Torch Run for Special Olympics Alberta, please visit www.specialolympics.ca/albertatorchrun and follow us on Facebook, Twitter, and Instagram, Flickr, and YouTube. 
Special Olympics Alberta 
Special Olympics Alberta is dedicated to enriching the lives of Albertans with intellectual disabilities through the transformative power and joy of sport. Our vision is that sport will open hearts and minds towards people with intellectual disabilities and create inclusive communities. Special Olympics Alberta's programs cater to all ages and a wide range of abilities to over 3,000 athletes in 140 communities. We provide world class sports programs that are run daily by over 900 volunteers and coaches. For more information on Special Olympics Alberta, visit, www.specialolympics.ca/alberta and follow us on Facebook, Twitter, Instagram, Flickr, and YouTube. 
- 30 -
For more information, please contact: 
Chelsea Fidler 
Fund Development Manager 
E: cfidler@specialolympics.ab.ca