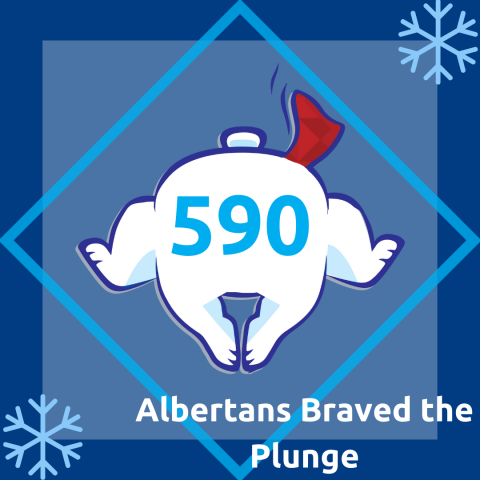 2020 has been a tough year for everyone and while some things change, one thing remains the same… Polar Plunge was a huge success thanks to YOU!
This year we started Plunge season a little earlier with our first-ever Solar Plunge at Lake Summerside, which paved the way for another great set of plunges.
We smashed our participant record as 590 incredible people took the plunge across Alberta to raise $194,000 for Special Olympics athletes.
Thank all the volunteers and sponsors in all the Polar Plunge cities and venues: Lake Summerside, Henderson Lake Park, Arbour Lake, Bower-Kin Community Center, and even though we didn't get to plunge there this year; the Medicine Hat Family Leisure Centre.
A special thanks to 2019 Polar Plunge Alberta top fundraisers:
Top Individual: Gordon Szol
Top Special Olympics Athlete: Leonka Kaluha
Top Law Enforcement Member: Korey Cleland
Top Team: Ice Ice Babies
Top Corporate Team: Take Roots
Top Law Enforcement Team: Polar Express of the Police!
Top University/College: University of Alberta Student Group
We are excited to keep the snowball rolling in 2021, but first we wanted to share some of the amazing memories from this year's plunge!
We hope you enjoyed plunging this year and hope you are ready to make a splash as we celebrate ten years of Freezin' for a Reason in 2021!
Thank you to all of our incredible sponsors and a special thanks to our Platinum sponsor, Mr. Lube for your incredible support without you this event would not be possible!