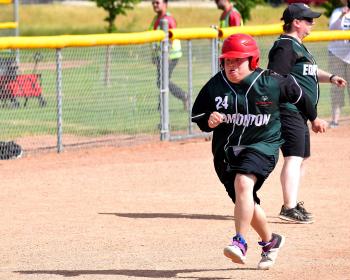 Special Olympics Alberta Draft an Athlete program provides support to Team Alberta athletes in training, travel and accommodations leading up to and during the 2018 Special Olympics Canada Summer Games and Bowling Championship. 
The Draft an Athlete program builds partnerships between athletes involved in Special Olympics and the communities in which they live, train and make us proud.
A contribution of $1,000 will draft one athlete and help cover the costs of being part of Team Alberta.  
As a Draft partner you will enjoy:
THE JOURNEY: An opportunity to follow your athlete on their journey. Regular newsletter updates, leave messages on their webpage, follow results during the games and if possible, a visit and photo op with your athlete accompanied by a representative from Special Olympics Alberta.
ATHLETE WEBPAGE: Personal and/or logo recognition on your Team Alberta Athlete's webpage
NEWSLETTER: Recognition as a drafter and team member in the Team Alberta 2018 Newsletter
PINS: Show your team pride with 10 limited edition Special Olympics 2018 Team Alberta pins
SEND-OFF EVENT: Invitations to and introduction at a Team Alberta send-off event.
For more information on the Draft an Athlete program please contact: 
Johnny Byrne
CEO
Special Olympics Alberta
E: jbyrne@specialolympics.ab.ca
P: 780-415-1305
THANK YOU
Brian A. Beresh Professional Corporation

Asim Chin

Steve Dippie & Matt Soehner

Deb Cantin

David Martindale

Janet and Jerry Tryhuba

Bruce Simpson

Joyce Phillips

Michele Lichak

Lorrie Sitler

Edie Dixon

Jill Moore

Wilma Shim

Paavo Montandon

Gerry Lorente

Scott Laluk

Lisa Daroux-Cole

Deb MacPherson

Ed Grose

Brian Simpson

Dave Findlay

Wendy Nelson

Special Olympics Alberta-Camrose

D.W. Higson Professional Corporation

Mark Thompson

Rob & Cathy Vogelgesang