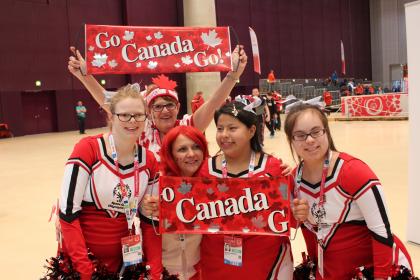 Upcoming Events for March 20, 2017

● After playing the first games of competition yesterday, both floor hockey teams get the day off to rest and recuperate.
● Figure Skaters take to the ice for level 4 ladies and men's singles, level 5 ladies and men's singles, level 6 ladies and men's singles, free program, and level 2 pairs.
● Team Canada speed skaters will compete in the 500m final featuring 8 of the 10 skaters attending the Games.
● Alpine Skiing will continue with divisioning for Novice, Intermediate and Advanced Giant Slalom.
● Cross-Country divisioning will continue for 1km time trial freestyle, and athletes will compete in both 5km Freestyle and 5km Classic finals.
● Snowshoeing will be running 25m, 100m, and 800m finals.
● For more information on event times, check out www.austria2017.org.
Highlights from March 19, 2017

● Canada won its first medals of the 2017 Special Olympics World Winter Games on March 18, 2017 in the 10Km Cross-Country ski race. Shane Stewart of Canmore, Alberta and Eloise Stewart from Cochrane, Alberta won silver and bronze respectively.
● Also on March 18th, Team Canada officially kicked off the 2017 Special Olympics World Winter Games at the Opening Ceremony, marching into the stadium alongside Minister of Sport and Persons with Disabilities, Carla Qualtrough, Honorary Coach for Team Canada, Jamie Salé, and Kim Samuel, of the Samuel Family Foundation, a proud Special Olympics partner.
o The Opening Ceremony, although a bit wet, was a night to remember for the Team with performances from Jason Mraz and Grace Vanderwaal, Helen Fischer, and an impassioned speech from Tim Shriver, Chairman of Special Olympics International.
o The Games Torch was officially lit following an incredible journey throughout Austria, and finally down the ski hill into the stadium, where it was passed amongst selected delegations attending the Games, including a member from Team Canada, Erin Thom, alpine skier from BC.
● Floor hockey Team East won their first game in Tier 1, 12 – 0 against Team Jamaica,  and Floor hockey Team West played their first two games in Tier 2, 3-0 against Team Mexico and a tie, 6-6 against Ukraine.
● All Cross-Country and Snowshoe events were cancelled due to poor weather.
● The first alpine ski medals of the Games were awarded on March 19th, three gold medals (Michael Langridge - Comb 1 Novice Super G, Alexia Barre - F3 Intermediate Super G, and Stephanie Savard - F2 Advanced Super G), one silver (Erin Thom - F2 Advanced Super G), one bronze (Susan Wang - F4 Intermediate Super G), and two fifth place finishes (Christopher Innes - M9 Intermediate Super G and Michael Wimbs - M6 Advanced Super G).
● Two Team Canada athletes, Christine Peters and Valerie Delorme, were able to watch the Schladming Splash Polar Plunge, supporting a law enforcement office from their home province of Manitoba
● We had some amazing supporters in Schladming to help with Alpine medal presentations, including SOC Board of Directors, National Partners (Tim Hortons and Coca Cola), and the Government of Canada.

Interesting Facts

● Speed skater, Amiee Gordon from Sydney Mines, Nova Scotia, is the first Special Olympics athlete from Cape Breton to attend a World Games.
● Team Canada has an impressive 200 family members who made the trip to Austria to watch our athletes compete.