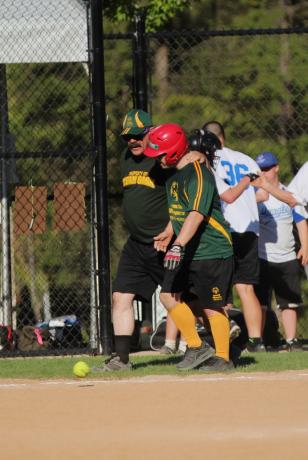 Volunteers are needed in every aspect of Special Olympics ranging from Program Volunteers, Event Volunteers, Administrative Help and Coaches. For more information on these roles please visit volunteer roles and coaching roles. 
Step 1: Reaching out
Contact us! Our Community Development Coordinator Korinne Lott can guide you through the process, klott@specialolympics.sk.ca or 306-780-9450 or toll free 1-888-307-6226
Step 2: Volunteer Registration Form
Print and fill out the Volunteer Registration Form found in Resources for volunteers and coaches. Please provide your contact information, what areas you would like to volunteer in, such as: youth programming, fundraising, events or coaching!
Step 3: Screening
Complete the Criminal Record Check form found in Resources for volunteers and coaches. Personally submit this form to your local RCMP/Police authorities for them to inquire. 
Step 4: Volunteer Orientation
Each new volunteer will receive a Volunteer Orientation Handbook.
Step 5: Submission of Forms
Submit the completed Volunteer Registration Form, Criminal Record Check, and the Confirmation Disclaimer of the Volunteer Orientation Handbook to your local community executive who will then forward it along with the registration fee to the provincial office.
Step 6: Clearance to Volunteer
After the provincial office reviews and processes your information, you will have clearance to volunteer with your accredited Special Olympics Community. If you have any questions about volunteering, please contact Special Olympics Saskatchewan. 306-780-9247 or toll free: 1-888-307-6226
For information on Volunteering please contact Korinne Lott- Community Development Coordinator at 306.780.9450 or email: klott@specialolympics.sk.ca.