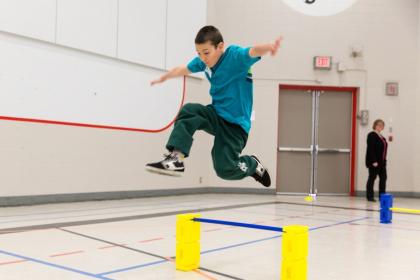 Special Olympics Active Start and FUNdamentals school programs are the first of their kind in Canada. They provide specific training and educational opportunities for children/youth with a developmental/intellectual disability and their classmates, many of whom do not have any other avenues for structured physical fitness.
The programs are built on the rationale that, when children with a developmental/intellectual disability receive early instruction in basic motor skills and developmentally appropriate play, there is an excellent opportunity for improvement in their physical, social, and cognitive abilities.

These programs provide the necessary tools for Teachers to foster their Special Education Students' Physical Literacy Goals.
The programs are available to any classroom, FREE of charge; that has students with a developmental/intellectual disability that will be taking part in the program.

The programs include:
• A specialized equipment kit from Flaghouse (valued at over $500.00)
• Lesson plans specific for use with the contents of the equipment kit
• Teacher education/support from Special Olympics Saskatchewan
• Modifications for small and large groups
• Supplemental activities
• Visual schedules
• Instructional video links
• Young Athletes Nutrition Guides (for every student to take home)
• Active Start and FUNdamentals Home Guides (for every student to take home)
• Special Olympics Tshirt (for every student)

Special Olympics offers two Youth Programs to schools:

Active Start (Ages 2-6)  Through this program, children learn basic motor skills such as walking, running, jumping, and throwing in a fun and safe environment.
Skills developed through the Active Start Program are physical skill acquisition, physical fitness, social skill development, decision making, knowledge, understanding, and appreciation of physical activity.

FUNdamentals (Ages 7-12) is a continuation of the Active Start Program for athletes ages 7 to 12 (participation in Active Start prior to taking part in FUNdamentals is NOT required). This program transitions from basic movement skills to basic sports skills while maintaining an atmosphere of fun and meaningful interaction. This program also promotes specific sports education, proper nutrition, and social inclusion through participation in positive sports experiences.
Skills developed through the FUNdamentals Program are: develops physical literacy skills, improves fundamental motor skills, participate in a structured physical activity, increased understanding of game structure.

School Registration Form