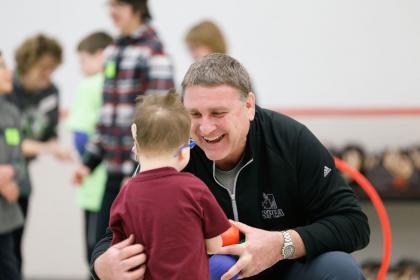 ​The Special Olympics Active Start Program is the first of its kind in the Province. The program provides specific training and educational opportunities for children with an intellectual disability and their families. Active Start is built on the rationale that, when children with an intellectual disability receive early instruction in basic motor skills and developmentally appropriate play, there is an excellent opportunity for improvement in their physical, social, and cognitive abilities.
The Active Start Program runs as a 12-week program in which the individual, accompanied by their parent or caregiver, will learn basic motor/movement skills to prepare them for more complex movement skills.
How to register:
ActiveStart and FUNdamentals are 12 week programs that run 3 times a year; September – December, January - March, and April - June. Registration fees are $40.00 per athlete for a 12 week session. Current programs in Saskatchewan are run in Regina, Lumsden and Saskatoon.
To register an athlete for ActiveStart or FUNdamentals please contact Amy Bosche, Youth Development Coordinator, at 306-780-9401 or abosche@specialolympics.sk.ca