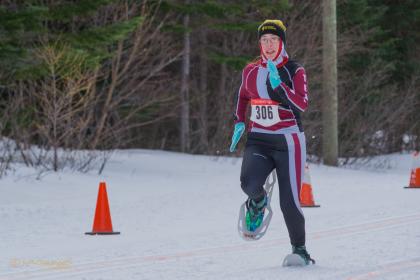 Floressa Harris has been a member of Special Olympics Gander Wings since 2009.  Floressa has tremendous athlete ability and is a gifted runner who excels in the sports of athletes and snowshoeing.  Floressa is a talented multi-sport athlete who also participates in the many varied programs her clubs offers such as bowling, bocce and swimming.
While Floressa has continued to improve upon her athletic ability year over year she has grown personally; Floressa now lives independently working part-time at both McDonald's and Wal-Mart.  She does her best to ensure her training and competition schedule does not conflict with her work schedule.
Floressa, whether at work or at Special Olympics, is always an extremely positive attitude, always with a smile on her face, and her strong work ethic rubs off on her Special Olympics teammates creating an encouraging and motivating environment.
Floressa is thrilled to be competing in Austria as this will be the first time she has left the country! She plans to do her best and make her club, community, province and country proud of her performance.

Floressa in the news: http://www.cbc.ca/news/canada/newfoundland-labrador/gander-special-olympian-prepares-for-austria-1.3997752