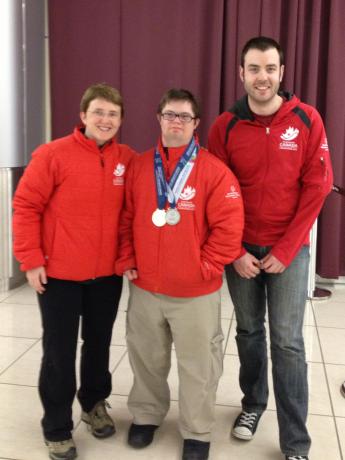 Special Olympics NL is truly fortunate to have such wonderful, dedicated and passionate volunteers working with, caring for and helping our athletes.
Dr. Carmel Casey & Dr. Neil Cheeseman are two such volunteers. They strongly believe in the Special Olympics movement and the opportunities participating in sport open up to our athletes. They believe in the value of participation at the local level where athletes come together for weekly sports training, physical activity, advice on proper nutrition and a wealth of social experiences.
Both Drs. are committed to helping athletes achieve their goals of performing their best.  To perform their best on the World Stage, athletes need to be healthy.  Dr. Casey & Dr. Cheeseman meet up with the team in Canada and assess each athlete carefully to ensure they in proper health; they catch any issues that could spread to the team here and ensure everyone has what they need to travel.  While at the Games they circulate amongst the sporting venues, taking pride in how Team Canada is performing and being available to help with any medical situations that may arise.
The coaches and mission staff accompanying Team Canada are always delighted to have the expertise Dr. Casey and Dr. Cheeseman bring with them. Both Drs. have attended multiple World Games and arrive ready to support the team.