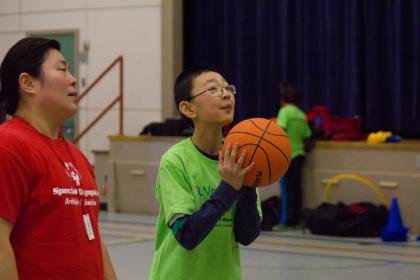 FUNdamentals is one of two initiatives developed by Special Olympics Canada for young athletes, along with Active Start (for children ages two to six). Program leaders introduce children to the world of sport by developing fundamental movement skills like walking, running, jumping and balancing. These skills provide support for everyday activities as well as a base for Special Olympics sports training and competition as athletes grow older.
Starting Age: Seven to twelve
Priority: Development of Fundamental Movement Skills
Objective: Physical Literacy
Skills: Basic Sport Movement Skills, ie. running and kicking
FUNdamentals focuses on developing basic sport skills while creating a level of enjoyment for physical activity in young athletes. Through these ideals we hope that this will encourage athletes to live a healthy active life through sport. FUNdamentals uses activity sessions that look at specific sport skills such as transportation skills, kicking, throwing and catching that can be transferred into a number of various sports and can be used in everyday tasks.
Meet Special Olympics athlete Alexander, a FUNdamentals program participant!