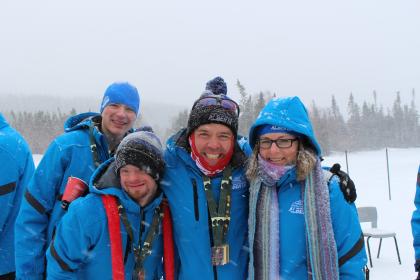 When they say hard work and dedication pays off, there is perhaps no better example than Shane Stewart.
The Canmore resident trains six days a week, dividing his time between the Canmore Nordic Centre (home of the 1988 Winter Olympics) and the Canmore Golf and Curling Club. He has competed provincially, nationally and twice on the world stage – medaling in every event he participated in.
Next March, Stewart will be taking to the world stage for the third time as he represents Alberta at the 2017 Special Olympics World Winter Games in Austria.
"I will be competing in the 5K and 10K Classic Style Cross Country Ski Race at the 2017 World Winter Games next March," said Stewart. "I'm so excited to be representing Canada in Austria and getting a chance to travel and meet new friends."
Stewart will be one of 11 Alberta representatives heading to Austria next March. Over his 10 years with Special Olympics, Stewart said he has been involved in everything from golf to skiing to bowling to track.
"I first found out about Special Olympics from a friend who was involved in the cross-country skiing program," he said. "I've always been a downhill skier and snowboarder, so this was quite a switch. I didn't like it at first, but it has grown to be one of my passions."
Aside from his strict training regimen and stellar competitive performance, Stewart said he also loves the comradery and travelling associated with Special Olympics.
"It's a great opportunity to meet new friends," he said. "I would encourage any person with or without an intellectual disability to get involved with Special Olympics."
When asked what his most memorable Special Olympics moment has been during the past decade, Stewart spoke of his time in Asia following the 2013 World Winter Games.
"After the games I travelled with my family for two months throughout South-East Asia," he said. "We visited Vietnam, Korea, Japan, Cambodia, and Thailand."
The 2017 Special Olympics World Winter Games are scheduled from March 14-25 in Austria, and are expected to draw more than 3,000 athletes representing more than 110 countries.