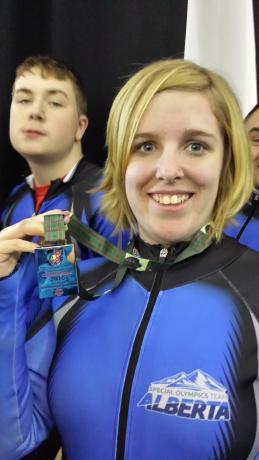 "My first sport I started with Special Olympics was speed skating," said Katie Saunders, Special Olympics Team Canada speed skater. 

 
After taking that first left turn 11 years ago, she never looked back. 
Katie Saunders has become an outstanding member of Special Olympics in Calgary, competing in both winter and summer sports and eager to mentor and support her fellow athletes. She skates with the local Special Olympics speed skating program and the Calgary Speed Skating Club. 
In preparation for the 2017 Special Olympics World Winter Games, Saunders kicked up her training with the Calgary Speed Skating Club hitting the ice three times a week and juggles a training session with Special Olympics, working out in the gym and spin class while managing to work full time as a teacher's aide. There's no surprise that a few of her nicknames are Speedy Katie and Lightning Bolt Gazelle. 
"I love playing sports because it keeps me active and in shape and I love the competition," said Saunders. 
Her commitment also extends off the ice and the track field with role as an athlete representative on the Special Olympics Canada board. 
"Special Olympics a changed my life in so many ways. I have more confidence and all around a better person. It has made me a leader and has given me opportunities to be a leader."
She never imagined how that one decision to try Special Olympics would change her life. Katie will be competing in her third World Games in Austria and is looking forward to competing against people from all over the world and represent Canada again on a world level. 
"I excited to meet new people at worlds and see Austria," said Saunders. "I can't wait to represent Canada and to wear the maple leaf!"
The 2017 Special Olympics World Winter Games are scheduled from March 14-25 in Austria, and will have 3,000 athletes competing in nine winter sports from 110 countries. For more information about the Special Olympics World Winter Games, go to
www.austria2017.org/en/home.
Be sure you cheer on Katie and all our
Team Canada
members. Show your Team Canada pride as they enter the final months of training by following the action on social media #SOTeamCanada17 #Austria2017 @SpecialOlAlberta @2017Austria.