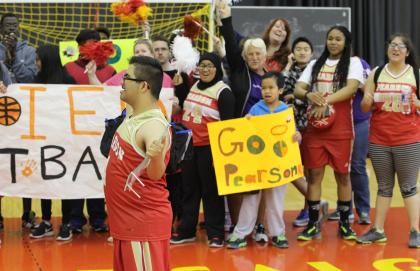 High school students are taking on inclusion one layup at a time!
Unified Basketball wrapped up its second season in Alberta with two action-packed three on three basketball tournaments in Calgary and Edmonton. The events joined students with and without intellectual disabilities playing on the same team.
The games in Calgary took place at the Jack Simpson Gymnasium on May 26 and featured over 120 students from eight schools competing in a divisional round robin that culminated in four gold medal matchups. Hussain Al Abaichi of Lester B. Pearson High School was named CTV Calgary's Athlete of the Week for his Outstanding Performance and Athletic Ability. Mayor Naheed Nenshi helped present signature basketballs to the winning squads and delivered an inspiring message for everyone in attendance. The event was a huge success with participation nearly tripling from the inaugural tournament last year.
"Unified Sports has helped me develop volunteer skills and when I graduate I really want to work with kids" – Kendra Van Dewark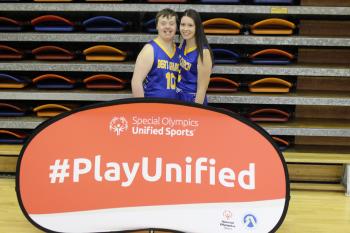 Noah and Kendra Van Dewark from Bert Church High School are not only an athlete and partner in the Unified Sports Program, but are also siblings who love to play basketball. The two define a great brother-sister dynamic as Kendra asserts Noah's "favourite hobby is bugging me." When asked who the better player was both boldly stated "Me," with Noah adding "I have my strength right here," as he flexed his muscles.
Noah continues to play as he "loves playing the games and making friends," adding that another perk is skipping school for the day. The two really admire the coaches, volunteers, and other athletes as Noah advocates "My team is really awesome, they work so hard."
Edmonton played host to the other year-end basketball tournament with 50 high school students from Bev Facey High School, L.Y. Cairns School, Chief Napeweaw, and Archbishop O'Leary High School coming together to partake in three on three action at the Saville Sports Centre on May 30.
The games featured special guest referees Jamie Salé and Special Olympics CEO and President, Johnny Byrne donning the stripes for some of the matchups. MLA Prab Gill was also in attendance cheering on all the athletes and partners.
You can still have fun even if you're not the best at this sport. I am not a basketball player, but I had a lot of fun. Anyone can score! – Krista Marcotte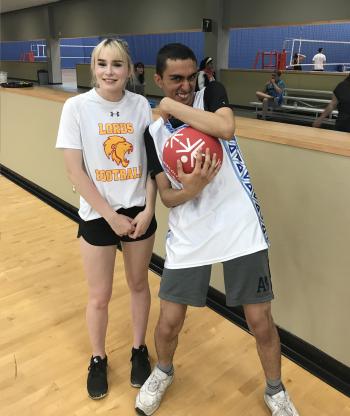 Krista Marcotte, a L.Y. Cairns High School student partner, believes that people who are interested in the program should participate stating "I think [Unified Sports] is really inclusive and everyone always has a lot of fun." Her teammate, Shawn Hosseinpour, echoed her thoughts, adding that Unified Basketball helps, "make us active and make friends."
Everyone was excited to be playing and Hosseinpour couldn't wait to jump back in on the action after our interview proclaiming "I just can't wait to play more basketball!"
Special thanks to our Unified Sport partner, Alberta Schools' Athletic Association, and all of the wonderful volunteers, coaches, athletes and supporters who continue to promote inclusion through Unified Sports. The 2016/2017 Unified Sports season concludes with Unified Relay at the ASAA Track and Field Provincials. For more information on Unified events or if you're interested in hosting a Unified event, go to our Unified Sports page.