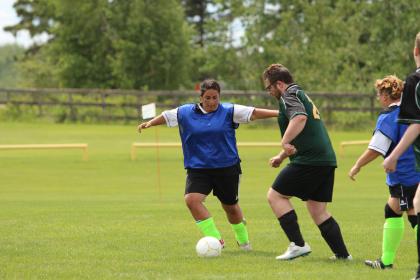 This summer Special Olympics Alberta athletes are showing their talent in Seattle, Winnipeg and Ontario's Peel Region. 
Not only are these athletes training daily in their communities and preparing for the 2017 Special Olympics Alberta Summer Games, they are testing their talents at many other competitions across Canada and United States. 

From June 25 to 28, four golfers will be representing Alberta at the 1st Annual Special Olympics North America Golf Championship held at Willows Run Golf in Redmond, Washington. Alberta golfers: Allie Price from Airdrie, Andrew Chamczuk from Stony Plain, Tyler Chapman from Barrhead and Josh Engel from Calgary will be teeing off and competing for the two days of competition. 
Our women's soccer team is heading east to compete in the first Special Olympics Ontario Women's Soccer Festival at during their Provincial Summer Games from July 14 to 16. The women's soccer team representing Alberta will be from Edmonton and area and will be accompanied by three coaches. Our soccer players attending are: Breanna Pedersen, Dallas Banister, Jaclyn Zimmerman, Jennifer Langlois, Laura Dakin, Jennifer Murray, Cairn Tremblay, Eileen Mooney, Sonia Massimino and Jacquelyn Kell. 
The end of July will kick off the 2017 Canada Summer Games with athletes competing in athletics and swimming in Winnipeg, Manitoba. Athletics athletes: Iain Cheyne from Calgary, Luc Harris from Strathmore, Brittany Sinclair from St. Albert and swimming athletes: Wesley Wilks from Didsbury, Stephen McMurter from Carstairs, Naomi Leam from Lethbridge and Sarah Schmick from Carstairs will be part of Team Alberta and will strive to beat their personal bests and get a place on the podium. 

It's a summer of sports so be sure you cheer on your local athletes and celebrate their awesome achievements!
#UnleashSport