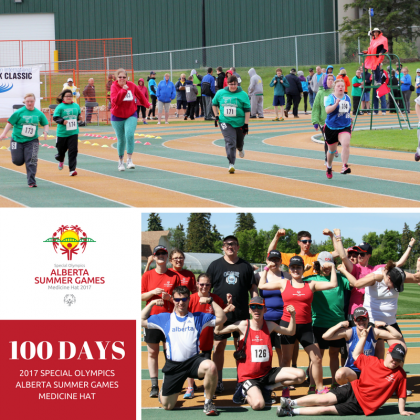 In 100 days, over 900 athletes from 25 Alberta communities and N.W.T. will be competing from July 7 to 9 at the Medicine Hat 2017 Games. 
"Throughout Alberta, athletes, coaches and volunteers are training and working hard to be able to show their best in Medicine Hat,"
says Johnny Byrne, Special Olympics Alberta president and CEO. 
"Our Provincial Games is a unique opportunity to provide to bring together our Alberta communities to provide an inclusive and competitive experience for our athletes. This experience allows our athletes to strive for their personal bests and connect with their fellow athletes. Our host town, Medicine Hat, has made plans to ensure that the weekend will exceed everyone's expectations and we have every confidence that our athletes will have the best competition experience possible in their world class sport venues."
11 summer sports: 5-pin bowling, 10-pin bowling, athletics, basketball, bocce, golf, powerlifting, rhythmic gymnastics, soccer, softball and swimming will take place in four sport venues with the Family Leisure Centre as the main hub of sport events. To kick off the start of the Games, an incredible opening ceremony will ignite excitement on July 7 at 7 p.m. at the Medicine Hat Exhibition & Stampede Cypress Centre.
The Summer Games will showcase a diverse range of age, gender and abilities of Special Olympics athletes in Alberta. From 9 year old, Luke Stelter from Spruce Grove who will be competing in athletics for the first time to 71 year old, Shirley Frank from Medicine Hat, who is a veteran competitor in 5-pin bowling, the 2017 Special Olympics Summer Games is largest sport and humanitarian event to hit Alberta this summer.  
After the Medicine Hat Games, athletes and coaches will have the opportunity to advance to be part of Team Alberta who will compete at the Canada Summer Games in Nova Scotia in 2018 and can continue to Team Canada and the World Games in Abu Dhabi in 2019. Get full details on the Games website www.medicinehat2017.ca.