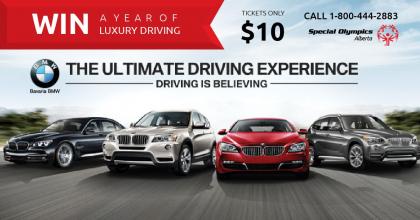 Be sure to get your ticket to win a year of luxury driving!
The BMW Raffle is back and bigger than ever with more chances to win more prizes. When you purchase your raffle ticket you get a chance to win:
Ultimate Driving Experience First Prize
1 year lease of 4 premium vehicles in 3 month durations of each model: 2017 BMW 328 M Sport, 2017 BMW 528 M Sport, 2017 BMW X5 35i and 2017 BMW 428 Cabriolet. Vehicle leasing provided by Bavaria BMW. The package also includes: 4 gift certificates for 1 night stay and breakfast for two at the Chateau Lacombe and $500 Gas Card (MSRP $21,500 includes vehicle leasing, hotel and gas).
Second Prize
WestJet Gift of Flight is a WestJet flight for 2 guests to any regularly scheduled WestJet destination. All booking and travel must be completed by December 8, 2018 (Value $2,900)
Third Prize
Signed print of Wayne Gretzky and Joey Moss. Dimensions 3.9'x 3.2' (Value $500).
Tickets are only $10 each.  
You can get more information on details on the 2017 BMW Raffle. 
License Number: 467525