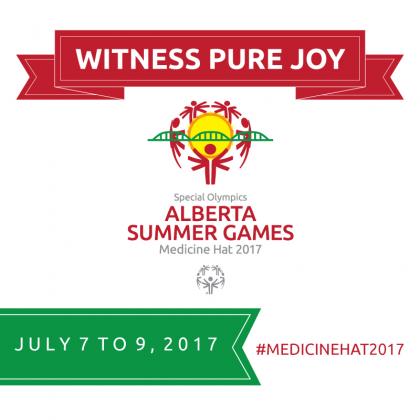 The 2017 Special Olympics Alberta Summer Games is fast approaching and teams are gearing out to bring their A game to Medicine Hat. Will you be there to witness pure joy?
With over 1,200 athlete and coaches from 24 Alberta communities and N.W.T. heading to Medicine Hat, the weekend will be an action packed event that is guaranteed to inspire joy and love for sport. Athletes will be competing in 11 summer sports: 5-pin bowling, 10-pin bowling, athletics, basketball, bocce, golf, powerlifting, rhythmic gymnastics, soccer, softball and swimming from July 8 to 9.
 "Special Olympics has motivated me to lose weight and be an example for other athletes," Doug Edey, Special Olympics Alberta-Grande Prairie Golfer
The Medicine Hat Games will have over 800 volunteers ready to make this the best games experience for athletes, fans and families. Welcoming faces and cheering volunteers will be at the five sport venues: Panorama Bowling Lanes, Crescent Heights High School, Family Leisure Centre, Connaught Golf Club and Medicine Hat Golf & Country Club. A volunteer rally for all our Games volunteers will be held on June 22 at the Cypress Centre of the Medicine Hat Stampede and Exhibition Centre.
The Summer Games opening ceremony will leave a lasting impression for all and will set the tone for an amazing weekend. We're expecting over 2,000 fans on July 7 at 7 p.m. at the Medicine Hat Exhibition & Stampede Fieldhouse. We encourage everyone to arrive early to get a seat as the event is free and open to the public. The event will feature dignitaries, a parade of athletes, the Law Enforcement Torch Run with the Flame of Hope and energizing entertainment. We will also have amazing ambassadors attending the Medicine Hat Games like Jamie Sale, Craig Simpson, Catriona Le May Doan, Rob Williams and Carly Kincaid.  
Check our website for more information on the 2017 Special Olympics Alberta Summer Games
Athletes competing at the Summer Games will have the opportunity to advance to compete at the 2018 Special Olympics Canada Summer Games in Antigonish, Nova Scotia.
Get more details on our 2017 Special Olympics Alberta Summer Games website: www.medicinehat2017.ca. #MedicineHat2017 #WitnessPureJoy