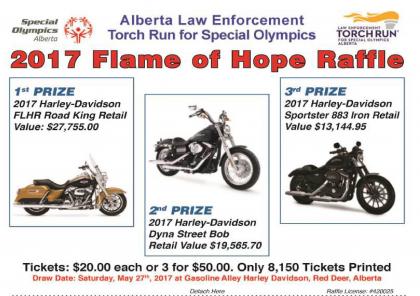 DON'T MISS OUT ON YOUR CHANCE TO WIN ONE OF THREE BRAND NEW HARLEY DAVIDSON BIKES!
ROAD KING

DYNA STREET BOG

SPORTSTER 883 IRON

1st Prize

Retail Value: 
$27,755

2nd Prize
Retail Value: 

$19,565.70

3rd Prize
Retail Value: 
$13,144.95
The Law Enforcement Torch Run for Special Olympics Alberta Flame of Hope raffle raises money for sports programs that benefit athletes with intellectual disabilities all over Alberta.
This year the 2017 Flame of Hope of Raffle is your chance to win one of three Harley bikes. Tickets are $20 each or 3 for $50 (8150 tickets printed).
Last year the raffle raised almost $150,000 for Special Olympics Alberta. On Saturday May 27th, you are invited to witness the winning ticket to be drawn at the Harley- Davidson Gasoline Alley in 37 Petrolia Drive, Red Deer with a barbecue. Special Olympics athletes and the general public.
Stop by and visit at one of the following events to purchase your ticket:
April 28 – 30           Fort McMurray Spring Show and Market
YOU CAN ORDER TICKETS BY CALLING THE SPECIAL OLYMPICS ALBERTA OFFICE AT 780.415.0719 OR TOLL FREE AT 1.800444.2883.