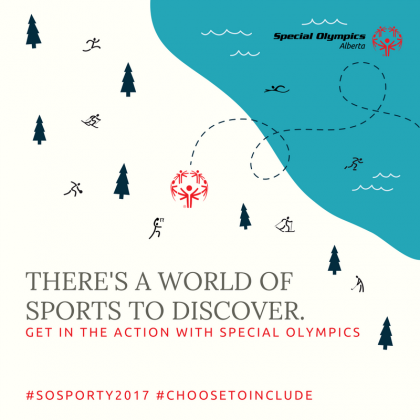 The excitement is brewing with in cities and towns across the province. Thousands of athletes are gearing up to start up their sport programs and dedicate a year in improving their skills or discover a new sport to fall in love in. 
 "Special Olympics made me feel super good about myself. It has increased my self-confidence and I've made lots of new friends."- Candace Ames, Special Olympics athlete from Camrose

Our research shows that Special Olympics athletes experience many health and lifestyle benefits in comparison to other individuals with an intellectual disability: 
10% fewer athletes who are obese or overweight 
20% fewer athletes with an anxiety disorders
Improved lifespan, and significantly improved overall health for Special Olympics athletes
16% higher employment rate 
Communities across the province are kicking off the new season with a fun registration day in their community. 
Get sporty with Special Olympics and register to be an athlete, coach or volunteer!

#SOSporty2017 #ChoosetoInclude
Date
Community
Details
August 26
Lakeland 
Lakeland Registration Day
Location: J.J. Parr Sports Centre, Kingsway Ave. Cold Lake, in the arena on 4 wing
 
Leduc
Leduc Registration Day
1 p.m.-3 p.m.
Location: Leduc Lanes, 102, 5910 50 St. 
 
Edmonton 
Edmonton Registration Day
1 p.m. -3 p.m.
Location: Central Lions Senior Centre, 11113 113 St.  
September 6 
Camrose  
Camrose Registration Day
5 p.m.-8 p.m.
Location: Camrose Recreation Centre (Lobby), 4512 53 St.
 
Wetaskiwin 
Wetaskiwin Registration Day
6 p.m.
By-the-Lake Park, 56 Ave, Wetaskiwin
September 7
Lakeland
Lakeland Registration Day
4 p.m.- 8 p.m.
Location: Centennial Centre, 4343 50 Ave, Unit 1003, Bonnyville
 
Camrose 
Camrose Awareness
6 p.m.-9 p.m.
Location: Camrose Community Centre, Fieldhouse, 4516 54 St.
 
Whitecourt  
Whitecourt Registration Day
Allan and Jean Millar Centre 58 Sunset Blvd, Whitecourt
Contact: specialocoachshannon@gmail.com 
September 9
Calgary 
Calgary Registration Day
11 a.m. – 1 p.m.
Calgary Heritage Christian Academy, 2003 McKnight Blvd NE
September 12
Airdrie
Airdrie Registration Day
5:30 p.m.-8 p.m.
Location: Cam Clark Ford Airdrie, 1001 Highland Park Blvd
 
Strathcona County

Strathcona County Registration Day

6:30 p.m.-8 p.m.

Location:  Robin Hood Association, 141 Broadway Blvd, Sherwood Park, AB

September 14
Airdrie 
Airdrie Registration Day
5:30 p.m.-8 p.m.
Location: Cam Clark Ford Airdrie, 1001 Highland Park Blvd
September 16
Grande Prairie 
Grande Prairie Registration Day
12 p.m.-5 p.m.
Muskoseepi Park Pavilion, 102 Ave., Grande Prairie
 
St. Albert 
St. Albert Registration Day
For more information contact stablertspecialolympics@gmail.com 
 
Medicine Hat 
Medicine Hat Registration Day
2 p.m.
The Elks on Riverside, 305 3 St. NW, Medicine Hat
September 20
Red Deer 
Red Deer Registration Day
4 p.m.-7 p.m. 
Elks Lodge, 6315 Horn St. (Highland Green Shopping Centre)
 If your community is not listed with an event, be sure you contact your local community to start your fall with Special Olympics! 
Check out your local community