The Ultimate Driving Experience
Congratulations Corinna Cayer of Calgary, AB (Ticket #8920), the winner of the Ultimate driving experience for 2016!
About the Special Olympics Alberta BMW Raffle
Are you ready for the Ultimate Driving Experience?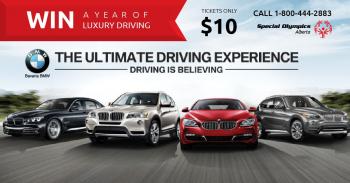 Special Olympics Alberta and Bavaria BMW have teamed up to get you in the driver's seat of a luxury BMW for a year. 
 
Purchase a raffle ticket for your chance to win a 1 year lease of 4 premium vehicles in 3 month durations of each model: 2016 BMW 328 M Sport, 2016 BMW 528 M Sport, 2016 BMW X5 35i and 2016 BMW 428 Cabriolet. Vehicle leasing provided by Bavaria BMW
Tickets are only $10 each. Tickets are on sale October 1, 2016 and raffle the draw is on December 9, 2016 at Bavaria BMW, 18925 Stony Plain Road, Edmonton, AB in the Pre-Owned Show Room. Doors open at 6 p.m. with the draw at 7 p.m.
 
The prize also includes: 4 gift certificates for 1 night stay and brunch for two at the Edmonton Radisson and $500 Gas Card. MSRP $21,500 includes vehicle leasing, hotel and gas.
There are only 10,750 tickets printed and all proceeds go towards Special Olympics Alberta. 
Notice: Raffle winners must be Alberta residents. Must be 18 years of age to purchase ticket. Must have valid driver's license. Restrictions: Prize must be accepted as presented. No substitutions. For full raffle rules and regulations, click here. 
License Number: 439970