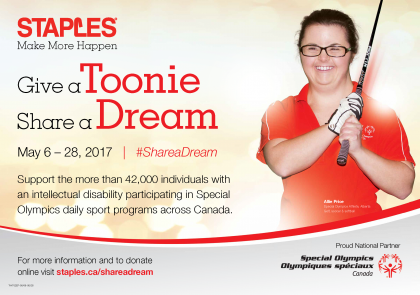 Staples Canada has been proudly supporting Special Olympics in Canada for over 15 years, through their Give a Toonie Share a Dream Campaign. This year's campaign runs from May 6 to 28 where all Staples stores throughout Canada will raise funds through customer donations at the till or online and raise awareness about Special Olympics.
Staples continues to support our outstanding athletes across Canada with their Give a Toonie Share a Dream campaign which will launch in all Staples stores from May 6 to 28 where customers are are able to donate at the till or online towards Special Olympics Canada.  
This year the face of the campaign is our local athlete, Allie Price who has proudly been part of Special Olympics for the past 10 years. She is a multi-sport athlete who competes in soccer and golf. She is an athlete leader and takes every opportunity to share her story about her journey in Special Olympics and how it's impacted her to go after goals.
"I KNOW THAT THE SKILLS AND ENCOURAGEMENT I RECEIVED FROM SPECIAL OLYMPICS HAS HELPED ME BE BRAVE ENOUGH TO GO AFTER MY GOALS."
ALLIE PRICE, SPECIAL OLYMPICS ALBERTA-CALGARY ATHLETE
Be sure you visit your local Staples store to support Special Olympics Alberta!