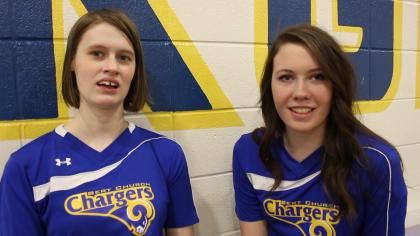 Unified Sports is the bridge to social inclusion.
Unified Sports joins people with and without intellectual disabilities on the same team. It is inspired by a simple principle: training together and playing together is a quick path to friendship and understanding.
With over 400 students with and without intellectual disabilities taking part in basketball, bean bag toss, bocce, and track relay, Alberta is leading the way to bringing Unified Sports to high schools across the province.
In partnership with Alberta Schools' Athletic Association, Special Olympics Alberta has made tremendous strides in bringing awareness and inclusion through the eight sport events hosted in the past 2016/17 school season. 
Check out why Madeline Jenkins (MJ) and Kendra Van Dewark grade 11 students from Bert Church high school are playing unified. 
Be sure you're part of the inclusion revolution! Get you school to play unified and contact Shanna Kurylo, shanna@asaa.ca to host or be part of a Unified Sport event.  
#ChooseToInclude #PlayUnified